Go Skateboarding Day in Bordeaux
June 19,2019
The DC EU Trippin' Tour is already starting and the DC Skateboarding team will hit Bordeaux on 21st of June to celebrate the Go Skateboarding Day. The team will cruise with the locals trhough the city that will host a specific project created by local DC ambassador Leo Valls and artist Nicolas Malinowsky: PLAY! Watch video below for more info. And stay tuned on @DC_Skateboarding for live footage that day.
Featuring: Tiago lemos, Wes Kremer, Tristan Funkhouser, Evan Smith, John Shanahan, Thaynan Costa, John Gardner, Josef Skott, Madars Apse, Tiago Lopes, Shintaro Hongo, Leo Valls and special guests.
#DCTRIPPIN #PLAYBORDEAUX2019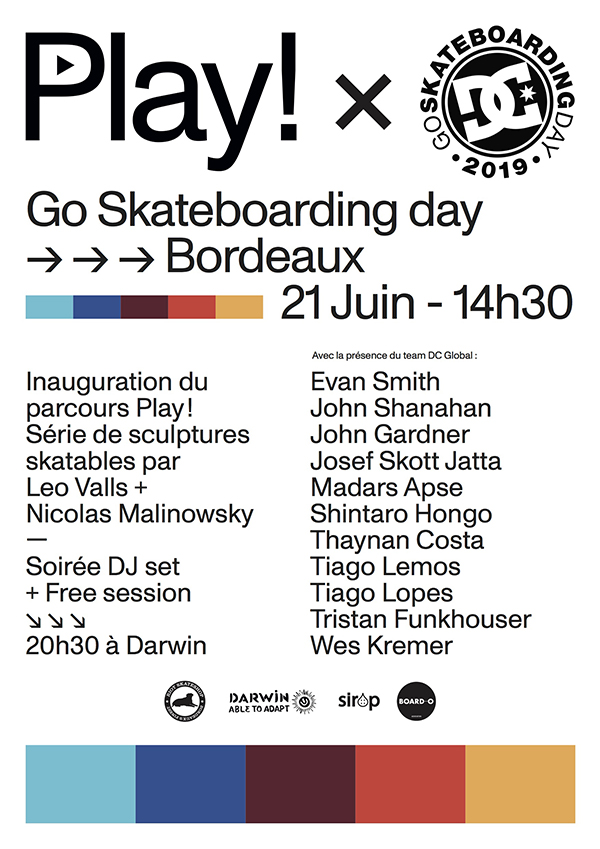 Short film presenting the PLAY! concept by Leo Valls & Nicolas Malinowsky.
Starring Nicolas Malinowsky, Leo Valls, Andréa Dupré & Seb Daurel. Filmed and directed by Doug Guillot, Pierre David & Yentl Touboul Original track by Nicolas Malinowsky