DC SHOES: The Evan Smith Signature Shoe with IMPACT-I Technology
January 06,2016
We're excited to introduce the new Evan Smith signature shoe. It's the first and only shoe to feature IMPACT-I technology, which seamlessly fuses boardfeel with impact protection. Inspired by Evan's style, the shoe features a low profile silhouette with Super Suede, unique rubber toe-cap and a first-of-its-kind vulcanized sole.
The new IMPACT-I technology features inverted cones of a lower durometer rubber to allow compression upon landing, protecting your foot while maintaining flexibility and board feel.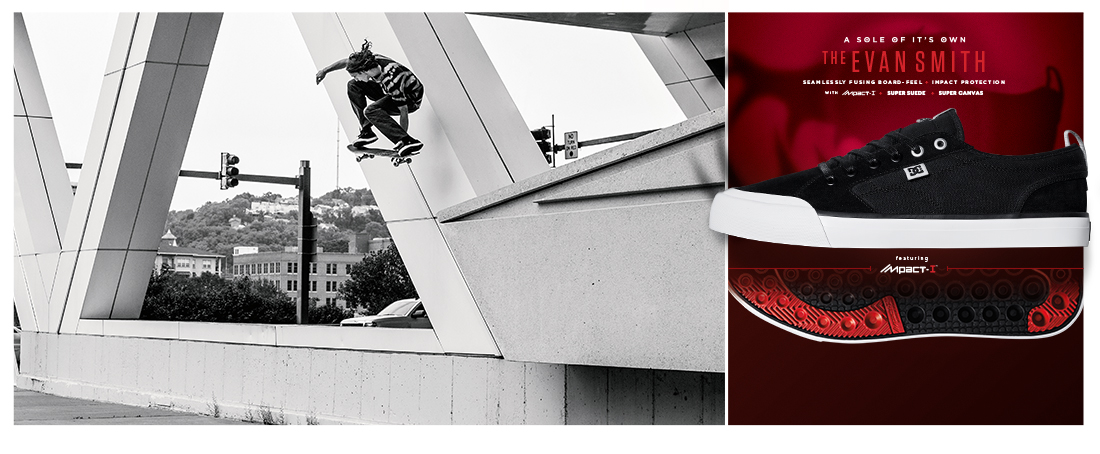 In addition to his first pro model shoe, Evan dropped his "Initials Collection" complete with tees, hoodies, wovens, shorts and the Evan Smith Hi shoe. The collection features casual yet skate inspired pieces with tie-dye and crystal washes alongside geometric inspired graphics, true to Evan's creative style.
Shop now and learn more at dcshoes.com/evansmith.