Snowboard Size Chart: Choose the Right Length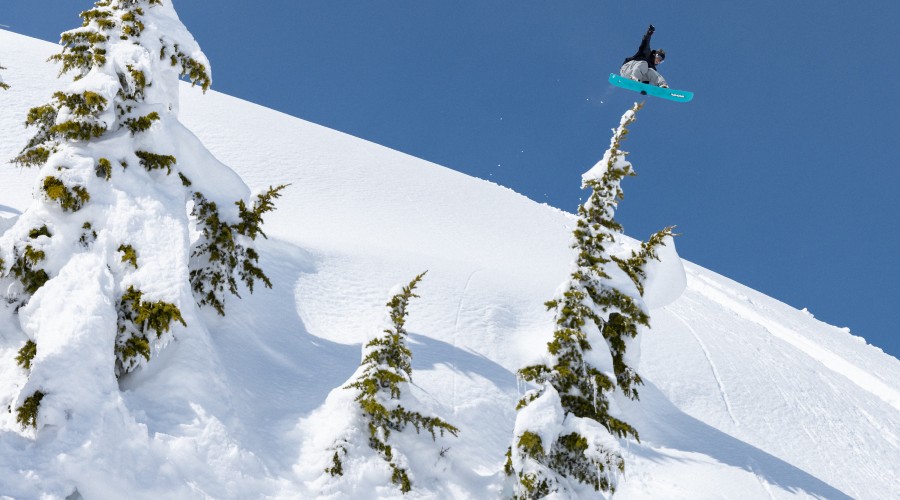 Choosing the right snowboard length is the key to finding the perfect balance between stability and maneuverability.
This article includes a handy snowboard length chart and explores the different factors that should be considered when selecting the perfect snowboard length, including:
Your weight, which has an impact on how a snowboard will flex while performing turns.
Your height, which influences how far apart your feet should be on your board, aka stance.
The board width, which should correspond to your boot size, minimizing toe and heel overhang.
Your riding level, which will determine the terrain you'll be riding on.
Snowboard Chart by Weight
Your weight is arguably the most important consideration when choosing a snowboard. Weight range is always indicated in board specs and ideally you should fall in the middle of the recommended range.
A shorter board is best suited for a lighter rider as the boards are softer and easier to flex than their longer counterparts. In contrast, a longer board is generally stiffer and therefore better suited for a heavier rider.
The following chart will help you determine the best board for your weight:
| | | |
| --- | --- | --- |
| Weight (lbs) | Weight (kg) | Board Length (cm) |
| 110-120 | 50-54 | 128-136 |
| 115-130 | 52-59 | 133-141 |
| 125-135 | 57-61 | 139-147 |
| 135-145 | 61-66 | 144-152 |
| 140-155 | 63-70 | 149-157 |
| 150-165 | 68-75 | 154-162 |
| 160-175 | 73-79 | 159-167 |
| 170-185 | 77-84 | 160+ |
| 180-195 | 82-88 | 160+ |
| 190-205 | 86-93 | 160+ |
Keep in mind that this chart is generalized and that you should check the sticker on the base of the snowboard you plan on buying for specific details.
SHOP MEN'S SNOWBOARDS SHOP WOMEN'S SNOWBOARDS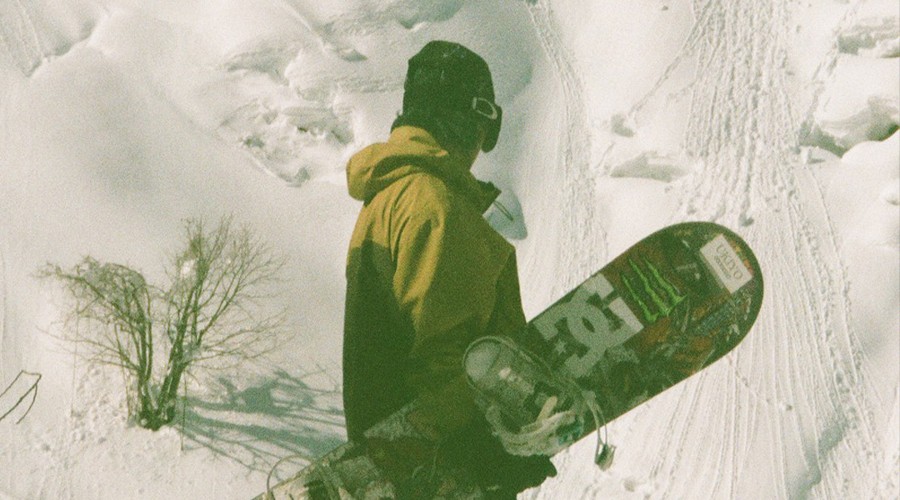 Snowboard Chart by Height
Another thing to consider when choosing board length is your height. The length of your legs will affect the distance between your feet when standing in a neutral position, aka your stance width.
As a rule of thumb, with its tail resting on the ground, your board should reach between your nose and your collarbone. Lighter riders and snowboarders who want to prioritize mobility over stability can choose a board on the shorter side of the spectrum. Heavier riders and those who want more stability can try a taller board.
The following snowboard height chart will give you a general guideline for choosing a snowboard according to your height:
| | | |
| --- | --- | --- |
| Your Height (ft / in) | Your Height (cm) | Board Length (cm) |
| 4'10" | 147 | 128-136 |
| 5' | 152 | 133-141 |
| 5'2" | 158 | 139-147 |
| 5'4" | 163 | 144-152 |
| 5'6" | 168 | 149-157 |
| 5'8" | 173 | 154-162 |
| 5'10" | 178 | 159-167 |
| 6' | 183 | 160+ |
| 6'2" | 188 | 160+ |
| 6'4" | 192 | 160+ |
Boot Size Chart and Snowboard Width
It's important to consider the size of your snowboard boots when choosing a snowboard for two important reasons:
Heel and toe overhang; which can result in losing your edge grip mid-turn if your boot touches the snow instead of your edge.
Floating in deep snow; if you have a big boot size, chances are you're a taller, heavier person and would benefit from a larger surface under your feet to keep you afloat in powder.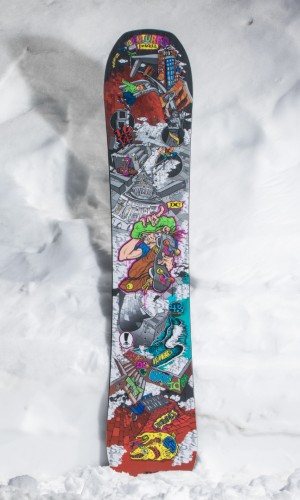 The width of a snowboard, aka the waist, is measured from heel edge to toe edge at the skinniest part of the board, which is generally the centerpoint between the bindings. Snowboard widths are categorized under the following labels:
Narrow
Regular
Mid-wide
Wide
If you have boots above US Men's size 10, then you'll want to consider a wide snowboard. If you have boots under US Men's size 8, then you'll want to consider a narrow board.
The following chart will give you a general guideline for choosing a snowboard according to boot size:
| | | | |
| --- | --- | --- | --- |
| | Boot Size (US Men's) | Boot Size (US Women's) | Snowboard Width (mm) |
| Narrow | 6-8 | 7-9 | 240-245 |
| Regular | 8-10.5 | 9-11 | 245-255 |
| Mid-wide | 10.5-12 | * | 255-265 |
| Wide | 12+ | * | 265+ |
Wide and narrow snowboards have similar specs to their regular counterparts just with a different sized waist. To make sure you have the right boot size before buying a board, check out our article on "How to Choose Snowboard Boots".
SHOP MEN'S SNOWBOARD BOOTS SHOP WOMEN'S SNOWBOARD BOOTS
Women's Snowboard Size Chart
Women's and men's boards are built the same, aside from a few characteristics that correspond to smaller body size:
Narrower waists for smaller sized boots.
Shorter heights for smaller heights.
Softer flex and lighter weight for lighter body weight and lower strength-to-weight ratio.
For more details regarding differences between men's and women's snowboards, read our guide on "How to Choose a Snowboard".
Choose the Right Board Length for Your Level
Follow this rule to choose a snowboard length for your level
Beginner riders should choose a shorter board to increase their mobility.
Intermediate and advanced riders can ride longer boards to suit their riding style.
As your skill level increases, you can begin to choose a snowboard specific to your riding style.
Beginner Rider
Entry-level riders should focus on mobility over speed. A smaller board will be more maneuverable, enabling the rider to learn how to pivot and tilt the board with ease, and at the right moments.
A shorter board will deliver this level of mobility, whereas a longer board might hinder this stage of development.
Intermediate Rider
Intermediate snowboarders will begin to focus on tricks, speed, and riding varied types of terrain.
Riders learning freestyle tricks will benefit from a shorter board offering more mobility.
Riders looking to go faster and explore tree runs and bumps will benefit from a slightly longer board to increase stability at higher speeds.
Advanced Rider
Advanced snowboarders might have a few different boards in their quiver that allow them to pick the perfect board for the conditions and focus of the day.
Longer boards deliver strong edge grip and can generate more energy than shorter boards, which is why they are the choice for freeriding and advanced freestyle.
Shorter boards offer greater mobility for precision rail tricks and more skateboard-inspired riding.
For a full rundown on how to choose a snowboard according to your riding style, check out our dedicated article on the different "Types of Snowboards".
Related Articles
The Ultimate Guide to Snowboard Clothing & Gear
How To Choose Snowboard Jackets
How To Stretch Snowboard Boots
How To Choose Snowboard Bindings
How To Choose Snowboard Gloves & Beanies