How to Choose Snowboard Boots - Fit & Tips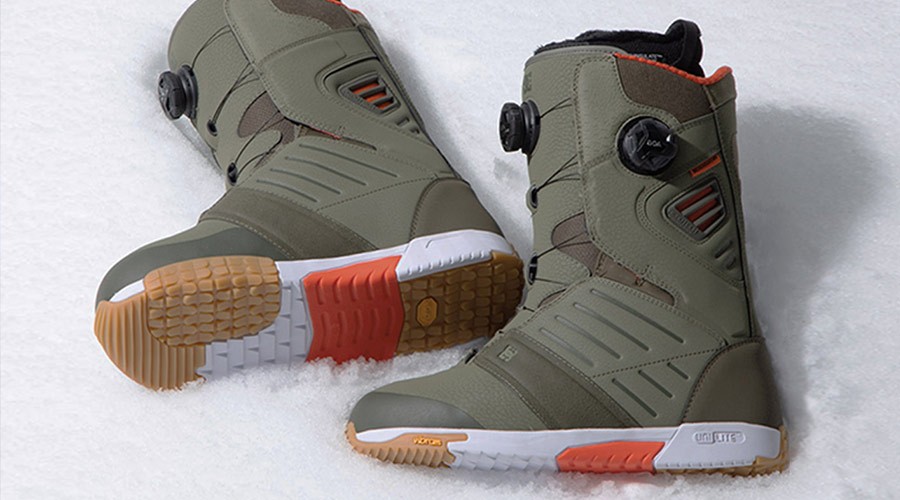 Snowboard boots are essential to your snow setup. They affect your style, comfort and performance. While your board is an important piece of the puzzle, you want to match it with the right boots to maximize performance. The flexibility, support, lacing system, insulation and materials all matter equally. Finding the right boot for you will depend on your riding style, skill level and the conditions you'll be experiencing most often.
If you're an all-mountain rider—meaning you ride all over the mountain, on both powder and groomed snow—you want a boot that allows more flexibility. But if you're a backcountry, off-piste freerider, you'll get the most out of a stiffer boot. And if you're always working on your tricks in the park, you want a softer, pliant boot.
How Should Snowboard Boots Fit?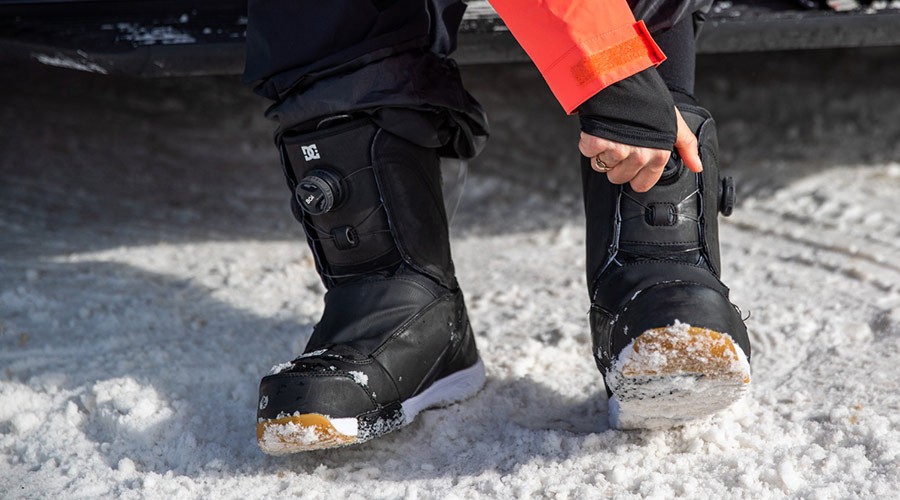 Snowboard boots should be nice and snug. But, they shouldn't rub, cram your toes, produce hot spots, or cut off your circulation. When trying on boots, make sure you are wearing socks that are similar (in thickness at least) to the socks you'll actually wear when riding.
When experimenting with sizes, one trick is to remove the liner before trying on a boot. When you stand up and slide your foot forward, so that your toes brush the top of the boot, you should be able to fit two fingers at the heel of the shell. If you can stack more than two fingers, you should size down. If you can only fit one finger, size up.
Of course, you also want to try on the boots with the liner in, so that you can make sure everything will work. Just remember, boots (especially the liners) take a few days to loosen up and break in, so they might feel a little tight and uncomfortable at first.
How Should You Size Your Snowboard Boots
While snowboard boots do use traditional numerical sizes, your boot size doesn't necessarily correspond to your normal shoe size. This is especially true when it comes to the differences between each manufacturer's sizing because there tends to be variation from brand to brand.
Mondo sizing—or the mondopoint sizing system—is a straightforward measuring system that most boot manufacturers follow. Basically, a mondo size is the length of your foot in centimeters. To get the best idea of what size boot you'll want, start with your mondo size and then consult the manufacturer's size chart.
Snowboard Boot Flex Types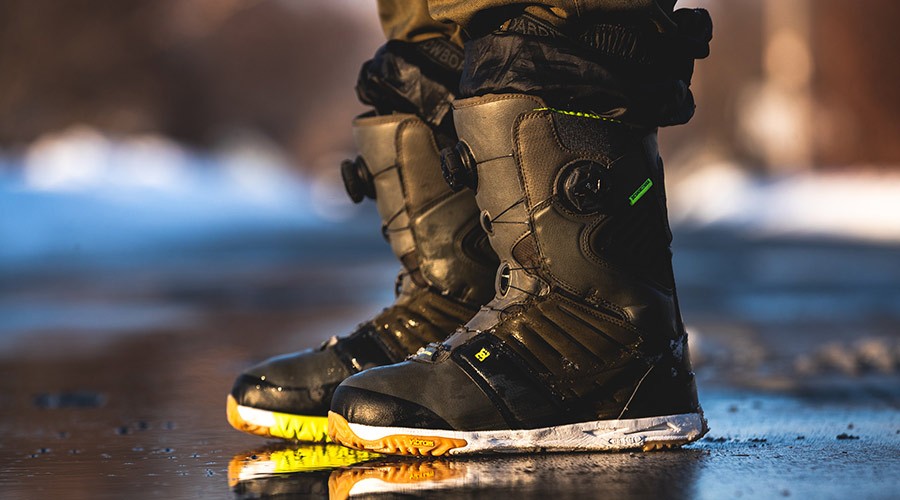 Snowboard boots are rated by flexibility on a scale from one to ten, with one being the softest and ten being the stiffest. New riders and beginners tend to prefer softer boots while learning, while advanced riders who are at ease in any terrain tend to prefer stiffer boots because they are more responsive
Soft Flex
Learners, new riders, and park enthusiasts tend to gravitate toward a snowboard boot with a soft flex. These boots allow for side-to-side mobility and deliver a more comfortable fit compared to stiffer options. You can cruise downhill and perfect your rail game with a soft flex boot. Turns are a little bit harder because of the decreased responsiveness when you lean in, making it somewhat choppier on your feet and knees when you're riding through unplowed or ungroomed snow.
Medium Flex
Intermediate and all-mountain riders tend to gravitate toward a boot with medium flex. These boots flex while providing solid support, which means you're good to hit the park and satisfy your half-pipe itch while hitting fresh powder in the same sesh.
Stiff Flex
Advanced and expert riders typically prefer a stiff boot with less flex. These snowboard boots deliver the most boot-bindings-board response and offer the most support for choppier conditions as well as tough landings in the backcountry. It won't be as seamless to do a lap in the park with stiff flex boots, as they provide less lateral give, but you'll definitely thrive off the beaten path.
Flex and Riding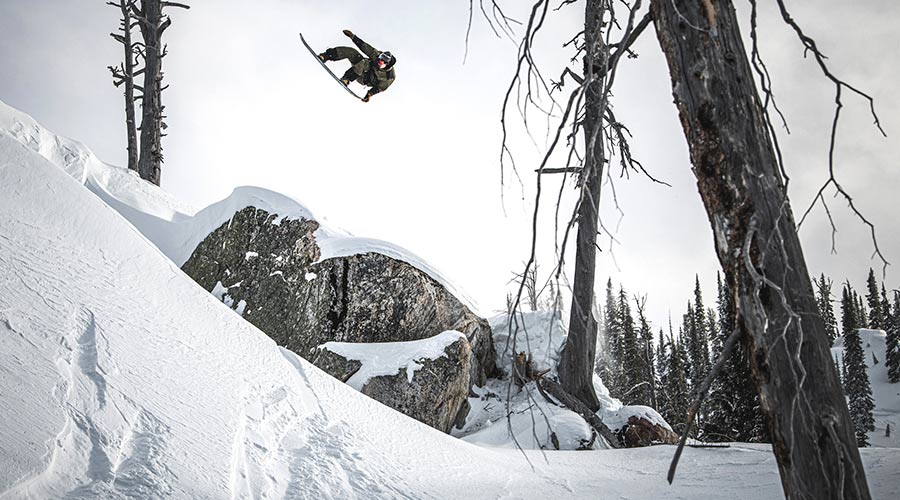 Let's delve into a more detailed explanation of riding styles—all-mountain, freeride and freestyle—and how they relate to boot flexibility. You might consider your riding style as a combination of all three, but understanding the relative standards of each will help you identify which boot will best serve your overall needs.
All-Mountain: This is a category applied to riders of all experience levels. If you plan on going to the park or enjoying some powder along with freshly groomed snow, you want a boot with lateral mobility. Soft flex snowboard boots will perform great for beginners and all-mountain riders. However, if you want to go fast, consider a boot with more rigidity.
Freeride: Freeriders spend a majority of their time on the mountain off-piste or in the backcountry. Precision and speed are priorities for freeriders, and they are more experienced than other riders. Freeriders usually want a stiffer boot that provides maximum rigidity so that their edge power is more responsive in icy, chunky, and/or deeper snow.
Freestyle: Freestyle riding refers to riders who are in it for the park. To perform and progress on halfpipes, rails and jumps, it's essential that your boot allows for flexibility and sensitive maneuverability. Go with the softest boot if this is your flavor of riding.
VISIT THE BOOT GUIDE
Snowboard Boot Lacing Systems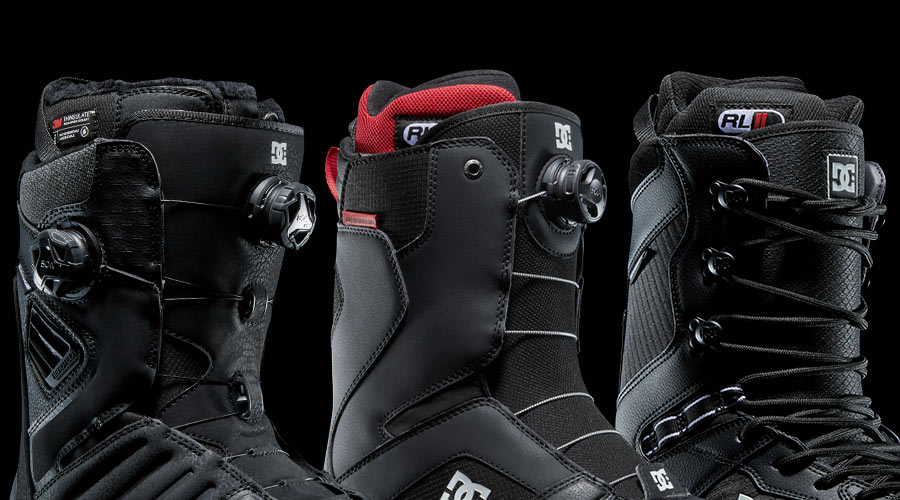 There are three types of snowboard boot lacing systems and each of them offers a slightly different lace-up method. Traditional lacing, speed lacing/quick-pull, and the BOA® system all offer unique pros and cons. Some boots feature a hybrid of these systems. The goal of your lacing system is to secure your foot and ankles firmly in place so that movement is minimal. Your heel shouldn't be able to lift and your foot shouldn't move at all when riding. That said, you want your boots tight, but still comfortable.
The most significant difference between boot lacing systems is the ability to adjust while you're on the mountain. Some are easier to tighten than others, but the choice mostly depends on your personal preference or desired price point.
Traditional Laces
You can't go wrong with traditional laces. These are the most common and reliable. Traditional lace systems are akin to your typical hiking or mountaineering boot.
Pros:
Tend to be the most accessible price point.
Tightness is easily adjustable by hand.
Replacing old or insufficient laces is straightforward.
Cons:
It can be hard to adjust tightness on-mountain, with gloves or cold hands.
Loosens more with use.
Laces can rip over time.
Speed Laces
Speed lacing or quick-pull systems are convenient and allow for more localized tightening, depending on your comfort level. For example, if you want your ankle and lower leg looser than your foot, that's achievable with speed lacing. These laces are easy to use and need only a single pull to tighten.
Pros:
No-think convenience.
Easily adjustable with cold hands or gloves.
Laces are more straightforward to tuck compared to traditional laces.
Customizable fit.
Cons:
Sometimes difficult to pull to tightness preference.
Difficult to change lacing in the event of a break.
Eyelets can create unwanted pressure points.
Can still loosen with use.
BOA® Lacing System
The BOA® system is more technical than the traditional and speed lacing systems. It uses cables, often made with small-diameter stainless steel, and dials (shaped like a wheel) to precisely adjust the boot's fit. Sometimes a BOA® system boot will have two dials, one at the tongue and one at the ankle. This provides a highly-localized fit that you can dial in with just a few twists. It really only takes a couple of seconds to tighten a BOA® dial.
Pros:
The fastest, most effortless, and convenient option.
Adjustable with one hand.
Easily tightened on-mountain or mid run with gloves or cold hands.
Precise and high-performance.
Less unintended loosening.
Cons:
More expensive.
Uniformity of tightness, depending on the number of dials.
May be difficult to replace a cable or lace.
Some vulnerability to pressure points.
Snowboard Boot Liners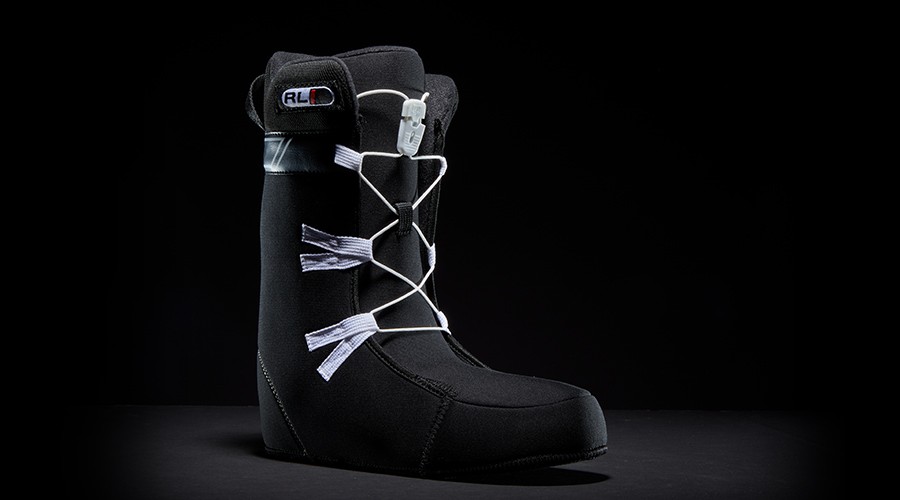 This is the part of the boot where your foot sits. Liners are typically lightweight, modlable, and are made with rubber or a synthetic substitute. They provide insulation, cushioning, and stability. Some snowboard boot liners are removable, which lets them dry out after a long day on the mountain, while others provide more comfort. Here's a brief rundown on each:
Stock Liners (Non-Moldable)
A stock liner is the most generic option. They're not custom molded to your feet, but they still provide solid support. Over time, the liner will form to your foot's shape because of the sustained impact of prolonged use.
Moldable Liners
A moldable liner is a level-up from a stock liner. These liners are built to conform and mold to your foot's shape through body heat. They deliver reliable stability and comfort.
Heat-Moldable Liners
Heat-moldable liners are top-of-the-line liners. These liners provide the most custom fit you can find, molding through a heat process. This is typically done in-store by a professional who forms them to your foot shape.
What Is the Difference Between Ski Boots and Snowboard Boots?
Snowboard boots and ski boots are functionally similar as they're both designed to sit in bindings. Other than this, they have nothing in common. Snowboard boots won't attach to skis and vice versa. If you want to ski, you must buy ski boots.
Snowboard Width, Bindings, and Boot Size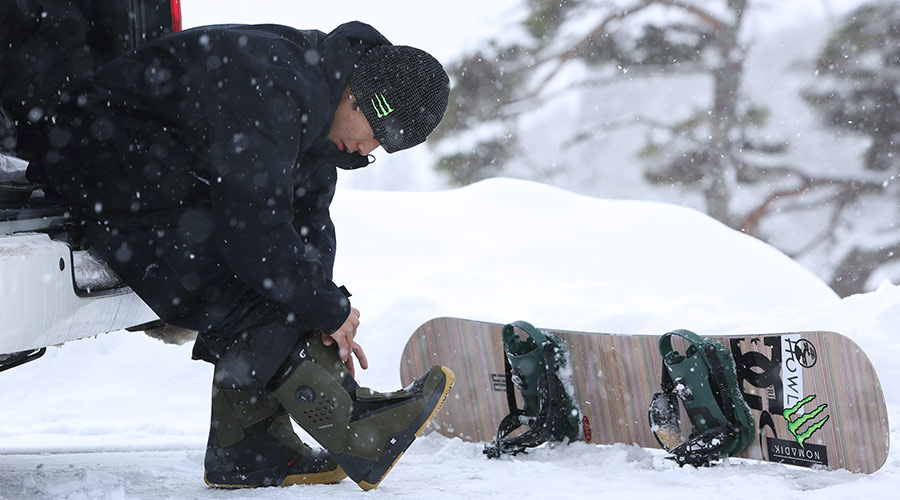 Buying a board and bindings should be your next priority. You want to be able to control your board using the leverage of your boots, so they should hang ever so slightly over the edges of your board. Slightly is key here: if your toes touch the snow, that's too far over the edge, and you might fall, especially doing turns. Same with your heels.
While your snowboard boot size can give a rough idea of the size and width of your snowboard, there are several factors that contribute to the optimal board size. Usually, height and weight are considered ideal indicators of board size, but rider experience and intended use also come into play.
SHOP MENS BOOTS
SHOP WOMENS BOOTS