How To Choose Snowboard Bindings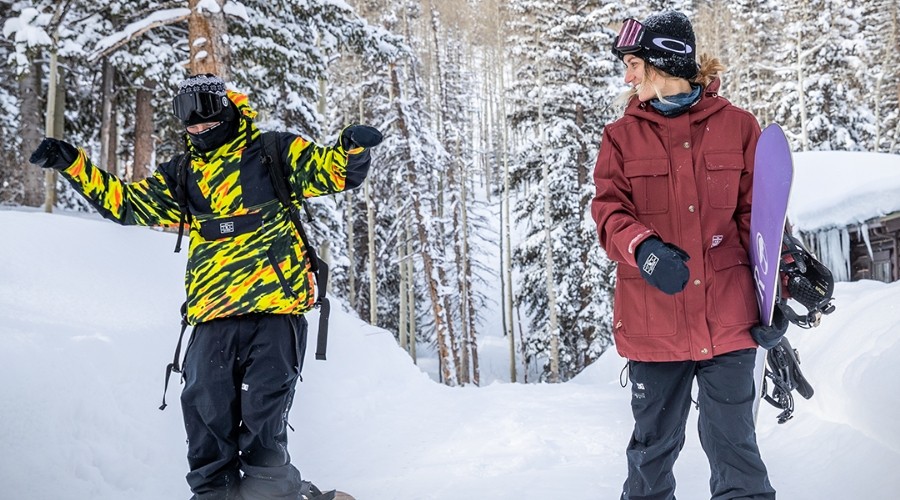 This article will empower you to choose the best bindings for your riding style and skill level. The main points to look for when buying snowboard bindings are:
Fit - Do your snowboard boots and bindings fit snugly together, or are there large gaps between the boots and the sidewalls of the bindings?
Flex - Soft, medium or stiff? This all depends on your riding style and level.
Features - Board compatibility, entry systems, strap styles and footbed adjustability are all important considerations.
Just like snowboards and all the other gear you'll need to start riding, there's a whole industry of snowboard binding manufacturers. To help you navigate all the options, we'll start off with a basic rundown on the anatomy of bindings.
How Do Snowboard Bindings Work?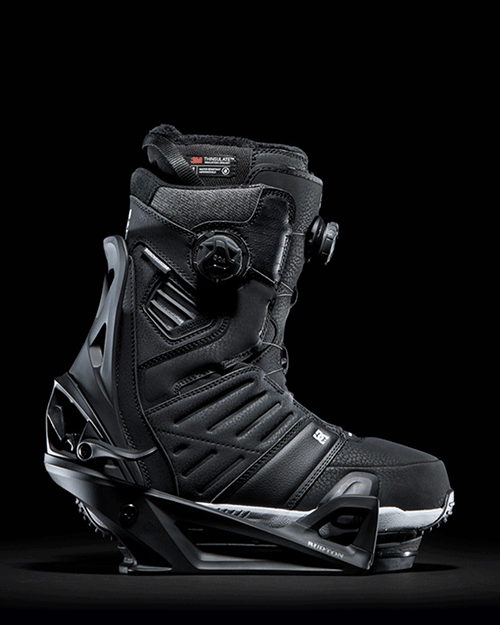 Simply put, bindings are what keep your boots attached to your snowboard. Bindings are fastened to your board and should be adjusted to suit your boots, height and riding style.
The anatomy of a modern snowboard binding generally consists of:
Baseplate
Footbed (ideally canted, i.e. slightly angled inwards for ergonomics)
Ankle strap with buckle
Toe strap or toe cap with buckle
Ladder straps
Heel cup
Adjustable highback
There are a variety of different snowboard binding types and knowing which ones to choose can be tricky because the sheer variety of them on the market can be overwhelming. Picking a set of bindings unfit for your needs or snowboard might actually make snowboarding more difficult.
Read on to learn about the factors that affect bindings and discover which ones would be best for your riding level and preferred terrain.
Snowboard Bindings Types
Strap In Bindings
Tried, tested and true, these classic two-strap bindings have been around since the early days of snowboarding. Most binding companies offer this type of binding. Finding replacement parts is easy and the straps can be adjusted to ensure a comfortable and responsive ride.
Step In Bindings
The main benefit of these bindings is speed. Originally debuted in the late '90s, step-in, or Step-On®, binding systems were built for speed and ease. Similar to ski boot and binding interfaces, the rider simply has to step into the system and wait for the latches to click into place. A lever or a button on the side of the binding allows for a quick release.
Rear Entry Bindings
These bindings are also built for a speedy entry. They still have adjustable ankle and toe straps but are set-and-forget due to the rear-entry system. A latch located on the rear of the highback allows the highback to open enough to slide your foot onto the footbed. Once well-placed, the latch can be closed and snugs the pre-adjusted ankle and toe straps to the top of your boot.
Race Bindings
Race bindings, aka hard boot bindings or plate bindings, are exclusively used on race boards and are made by a select group of companies. They only work with hard boots and are designed for one thing; going fast.
Splitboard Bindings
Splitboard bindings are a specialty piece of equipment designed to work with splitboards. They generally have metal baseplates that slide on and off of pucks which are fastened to the board. They lock into place with a pin on older bindings, or with a toe clip on newer models.
Flex Rating
One of the main features to pay attention to is flex rating. Flex is measured in two places: along the baseplate from toe to heel and along the highback both vertically and rotationally. The flex rating has a direct impact on the responsiveness of your snowboard and how quickly it will get on its edge. It also has a direct impact on your range of movement while strapped into your bindings.
Do you want soft or stiff bindings? Read on to find the answer.
Your Snowboard Level
Beginner
Beginner snowboarders will be best served with soft bindings. As snowboarders progress, we learn to make more and more refined movements. Beginners tend to make larger movements, and it's a good idea to have the bindings absorb some of that energy by flexing. It allows for less abrupt edge changes which means less chances of catching an edge.
Intermediate/Advanced
Intermediate and advanced snowboarders will want medium or stiff bindings. As we get better at snowboarding, our movements become more deliberate and we want our bindings to translate those movements directly to our snowboards. Refining our movements combined with the right pair of bindings helps us save energy and shred longer.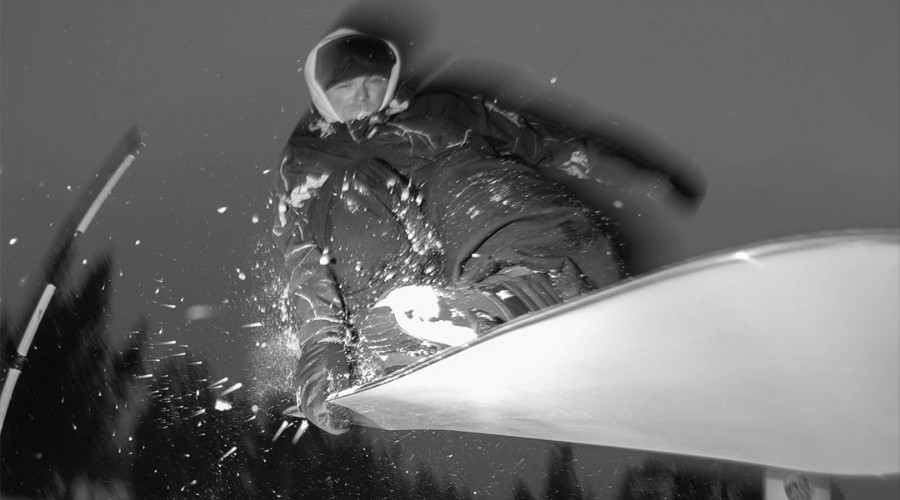 Your Snowboard Riding Style
All-Mountain
If you like to ride groomers as much as park and powder, then all-mountain bindings with medium flex are what you're after. As an all-mountain rider, you're at least an intermediate rider and will enjoy being able to tweak your grabs with the medium flex and precisely get on an edge in the steeps.
Powder
Controlling your board in powder can be easier with a medium or stiff binding so that when you want to change edge, your board responds. A softer binding might leave too much lag between the movements of your body and the response of the board. The medium flex in both the highback and the baseplate strikes the balance between a surfy feeling and the ability to get on edge quickly.
Freestyle
Style is everything in freestyle and creating style is partly about moving out of center during your trick and then back to center for the landing, otherwise known as tweaking. Soft bindings can help increase your range of motion through greater rotational flex of the highback, and let you tweak your board a little further to make that trick your own. That being said, many advanced freestylers want the response and precision that only stiff bindings can offer.
Freeride
Stiff bindings are the way to go when freeriding. Stiffness is achieved for the most part by choice of construction materials. While boards with less polymer and more carbon tend to be more expensive, they make for great stiff bindings. For precise edge changes on steeper slopes, you want your bindings to respond as quickly as possible. Stiff bindings provide this response and help keep you safe when riding in scary places.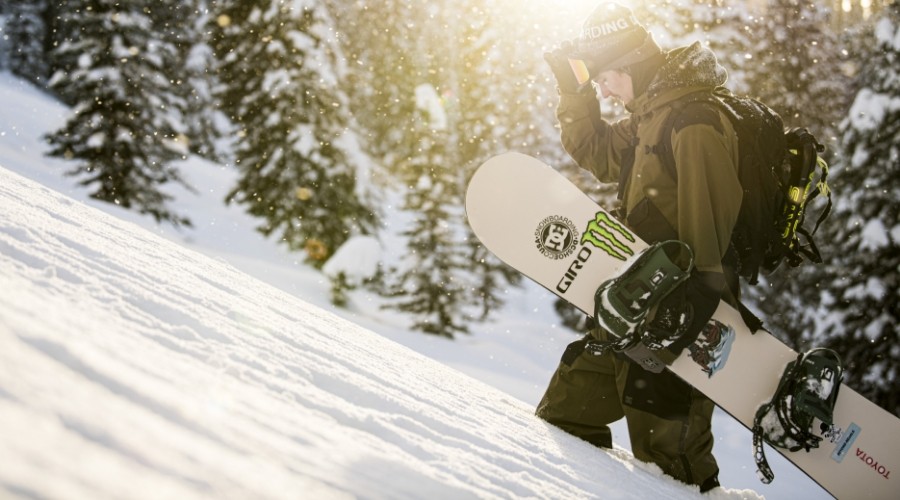 Binding Compatibility
Snowboard Boots Compatibility
It's probably a good idea to choose your boots before your bindings. Check out our article on "How To Choose Snowboard Boots" for some tips.
Once you've got your boots, a snowboard binding size chart like the one below will help you determine which size bindings to choose. When buying bindings, make sure you consult that brand's sizing guide as there could be slight variations from brand to brand.
| Binding Size | S | M | L |
| --- | --- | --- | --- |
| Men's boot size | 6-8 | 8-11 | 10+ |
| Women's boot size | 5-9 | 9-11 | 11+ |
Here are a few more things to look out for to ensure you have the perfect fit:
Minimal gaps between the sides of the boot and the baseplate sidewalls
Toes should not pass the end of the bindings by more than half an inch
Binding straps should neither be set to the maximum nor minimum of their range
Board Compatibility
Not all bindings fit every board. The variable in board compatibility is due to the three main mounting systems:
The channel system uses two screws to secure the binding in its desired position. The benefit is that you can choose the position with millimeter precision.
3D disk is a disk that sits in the center of the baseplate and is fastened to the snowboard with three screws.
4-hole disk is similar to the 3D disk with the difference being that four screws are used instead of three.
Both disk systems use screw inserts that are pre-drilled into the top of the snowboard deck. Importantly, bindings that are specifically built for the channel system cannot be used on boards with pre-drilled inserts. However, bindings with the disk system can be mounted on a channel with a two-hole adapter disk.
How To Choose Snowboard Bindings for Women
The only differences between men's and women's snowboard bindings are size-related:
Smaller highback height due to differences in men's and women's calf muscles
Smaller binding sizes due to women generally having smaller feet than men
Smaller ankle and heel straps due to women wearing smaller sized boots
Overall weight of the bindings due to the amount of material used in production
Other than that, women's bindings are very similar to men's bindings in terms of materials used, mounting systems and overall design.
Snowboard bindings are one of the most important pieces of equipment you will buy for your set up. Hopefully after reading these tips, you can confidently pick out the best set of bindings for your winter.
Related Articles
The Ultimate Guide to Snowboard Clothing & Gear
How To Choose Snowboard Jackets