What are the 4 Types of Snowboards?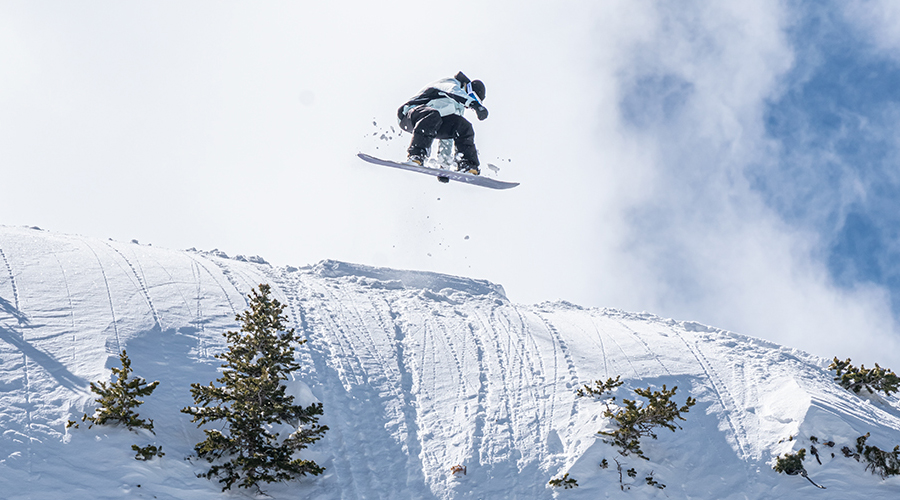 Snowboards come in a variety of types. Learning the benefits of each can help you find a snowboard that's best suited for your riding style and needs.
The four main types of snowboards to choose from are:
All-mountain snowboards are designed to perform anywhere on the mountain, from tearing up slopes and bumps, to powder and park.
Powder snowboards are built for deep powder days where conditions demand a specific shape to maintain speed and control over deep snow.
Freestyle/Park snowboards provide the flex and pop needed to send jumps and slide boxes, riding either regular or switch (reverse stance).
Freeride snowboards are designed to give you the edge grip and response needed to keep you in control on the steepest slopes.
If you're wondering "How many types of snowboards are there?," other types of snowboards do exist, including alpine snowboards and splitboards. In this article, we will focus on the four main types of snowboards.
To learn more about the technical features and terminology of snowboards, visit our guide on "How To Choose a Snowboard".
All-Mountain Snowboards
All-mountain boards are an excellent choice for riders who want a board that performs equally as well in pow, trees, bumps and groomer slopes.
The best all mountain boards for beginners are snowboards with twin flex, and either flat or hybridized camber. This type of camber, which is less aggressive than traditional camber, reduces edge catches and makes edge-to-edge transitions easier. That is, when transferring from toe side to heel side on turns, you're less likely to catch an edge.
These boards are generally:
Directional shape with a slightly longer nose than tail to give a little extra energy at the end of your turns by keeping your weight near the tail.
Traditional, flat or hybridized camber profile to help your nose stay afloat in powder and ensure the proper amount of edge grip at each phase of your turn.
Twin or directional flex depending on how much you think you will ride switch.
The twin flex can transform an all-mountain snowboard into an all-mountain freestyle board (AMF), giving the rider the same pop and edge grip whether you're riding switch or regular.
If you're looking for something to handle all the terrains and conditions on the mountain, an AMF board is the way to go.
Powder Snowboards
You may have seen powder snowboards with tapered tails and big spoony noses in the chairlift line-up. These boards are built for powder – the tails are designed to sink into the snow so as to naturally lift the nose up and out of that deep powder.
Powder boards generally come in:
Directional or twin flex, although they often have a directional shape.
Hybrid camber profile: reverse (inverted) camber over the nose and traditional camber either under the bindings, or from the front binding to the tail.

If the snow gets hard-packed, or you end up on a groomer slope, you will feel limited edge grip on the front of this board.

Freestyle/Park Snowboards

Park boards are designed to help snowboarders get in the air and stay locked in while sliding boxes and rails. They work in both forward and switch directions on well-maintained terrain parks.

Freestyle boards generally have the following characteristics:

Twin flex and twin shape, symmetrical from the waist, and through to the tip and tail.
Stiff flex for jumping and halfpipe and medium to soft flex for boxes and rails.
Traditional camber is preferred by many advanced riders to help build and release energy in the snowboard when hitting jumps or riding the half pipe. To help riders lock into nose or tail presses while sliding on boxes or rails, many park boards build in either flat or reverse camber – aka rocker – at the contact points on the outside of both bindings.

One of the essential things a park board should be able to deliver is pop, or the ability to create and release energy and send you into the air.

Freeride Snowboards

Freeriding is about the pursuit of steep terrain. These boards offer quick response and solid edge grip for stability when straight-lining and navigating controlled turns at speed.

Freeride snowboards have the following characteristics:

Directional shape and flex as they're designed to go forwards down the mountain.
A deeper sidecut will make shorter turns easier whereas a shallower sidecut will make bigger, longer turns.
The profile can vary between full traditional camber to traditional camber with a rockered nose.
Medium to stiff softness to offer quick edge changes and the creation and release of energy.

The commonality is that freeride boards should have a stiff tail to give you grip and energy when rounding out your turns.

What Type of Snowboard Should I Get?

The type of snowboard best suited for you really depends on your riding style, skill level, personal preference and the terrain you'll be riding most often. Hopefully you have a better idea of the differences in the boards above and how each feature affects riding, whether that be in terrain parks, powder, or a combination of conditions.

Advanced boards tend to be stiffer, more responsive and can handle a higher energy load than snowboards built with beginners in mind. Snowboards suited for beginners offer a softer, more forgiving experience, resulting in a quicker learning curve.

Ultimately, the best kind of snowboard to buy is the type of board that lets you have the most fun and makes you feel in control of what you're doing.

Related Articles

How To Stretch Snowboard Boots

How To Choose Snowboard Bindings

How To Choose a Snowboard Jacket

How To Choose Snowboard Gloves & Beanies

How To Choose Snowboard Clothing & Gear