How To Choose Snowboard Pants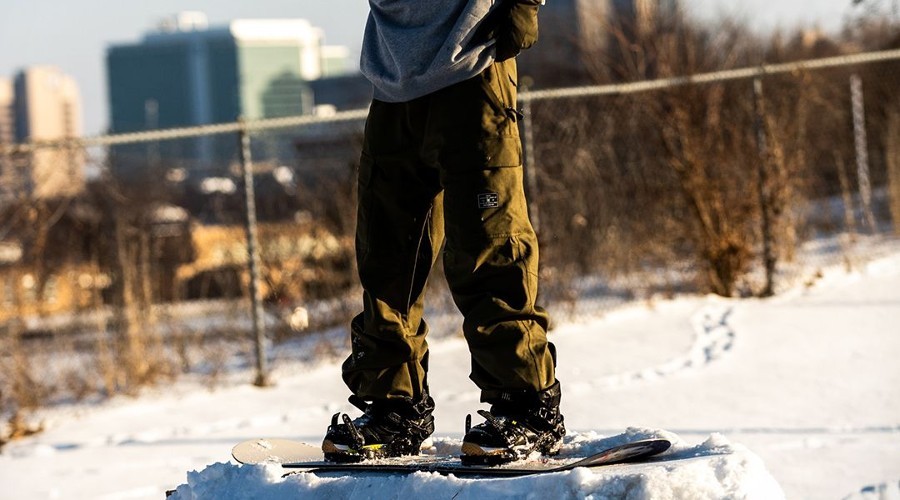 As snowboarders, we spend a lot of time – not just in snow – but in all types of cold weather. This guide will walk you through the specs and features you need to know when buying your next pair of snow pants.
Different Snowboard Pant Types
Weather conditions, personal preference, fit and your skill level all play a role in determining what snow pants will be the best for you.
The two main types of snowboard pants, insulated and shell, are explored below in more detail.
Insulated Pants
Insulated snow pants consist of a wind and water-resistant outer layer, and a heat-retaining lining. Insulation is key for snowboarders who live in colder climates and riders who spend long days on the hill. It's often those long chair rides back to the top when you'll be happy to have insulated pants.
When it comes to outerwear insulation, there are two types to consider: synthetic or natural.
Synthetic insulation, ideally made from recycled plastics, is almost always the choice used in snow pants to protect you from the cold as it retains its insulating properties when wet.
Natural insulation, aka down, is a powerful insulator in snowboard jackets but is not suited to snowboard pants ast the level of insulation provided would overheat your lower body.
In order to tell how warm your pants will keep you on the coldest days you want to pay attention to the Fill Weight. Fill Weight is the amount of insulation that is in the snow pants and most insulated snowboarding pants come with 40g of insulation for adults and up to 80g for kids.
Shell Pants
Shell pants are more or less the same as insulated pants but they don't have any insulation within the lining. But why wouldn't you want insulation? Three main reasons: warmer climates, higher activity level, and layering. Shell pants allow you to add your own layers to account for the conditions on any particular day. On a warm spring day, you might go without any extra layers underneath your shell pants. But, on a colder, longer day, you can wear some sweatpants or thermals (or both) underneath.
There are two types of shell construction:
Hard shell pants are ideal for snowboarding as they feature a fully waterproof membrane which allows vapor from your body to escape while keeping rain and snow on the outside.
Soft shell pants offer less wind and waterproofing in exchange for stretch and breathability, making them more suited to high intensity activities like hiking, or warm and dry days on the mountain.
Shell pants are commonly made of either nylon or polyester, both extremely durable materials, to stand up to the wear and tear of regular snowboarding. They often have extra durability built into critical zones such as the seat and the knees.
Nylon snow pants are a little softer and more durable than polyester pants.
Polyester snow pants are slightly more waterproof than nylon pants, although both fabrics are considered water-resistant.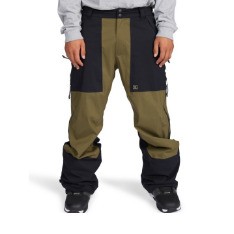 Both shell and insulated pants protect you from the weather, but not all pants are created the same. The following section dives into waterproofing, breathability, and wind-resistance and how these help find the right snowboard pants for you.
Waterproofing Ratings: How To Understand Them
If you spend extended amounts of time sitting in the snow or regularly riding in wet conditions, then waterproofing is the most important factor to consider (even more so than insulation). Waterproofing ratings range from 5K on entry-level pants, up to 45K on high-end pants on which the seams should be fully taped or welded.
A 5K garment can withstand the pressure of a 5,000mm water column before any moisture seeps through.
A 45K garment can withstand the pressure of 45,000mm before water seeps through.
| Rating | Good for |
| --- | --- |
| 5K | Light rain or snow for short periods at a time. |
| 10-20K | Moderate showers and snowfall. Best if your knees and backside come in contact with the snow often during your day. |
| 45K | Best for a full day of riding in heavy weather. |
The higher waterproofing ratings are achieved through the inclusion of a waterproof membrane such as SympaTex® which not only provides waterproofing, but breathability as well. Why is breathability important? Read on.
Breathability and Windproofing
Breathability is the flip-side of waterproofing where the goal is to allow vapor, aka your sweat, to escape through the fabric rather than blocking it in. If sweat can't escape, this will lead to you feeling clammy and cold.
Breathability ratings are expressed in grams of moisture passing through a square meter of fabric in 24 hours. A pair of snowboard pants with a 30,000g breathability rating will keep you drier longer than pants with a 5,000g rating. This rating is usually listed second after waterproofing: 10,000m/5,000g.
Windproofing ratings will tell you how warm you will feel on windy days or when bombing down the mountain at top speed. It is communicated in CFM or m2/sec and lower numbers indicate greater protection. Snowboard pants don't often show this spec, but if you see it, now you'll know what it means.
How To Choose Your Snow Pants Size and Fit?
Personal preference and need for base layers play the largest role in picking which fit is best for you. The four main styles are: tailored, regular, relaxed and drop fit.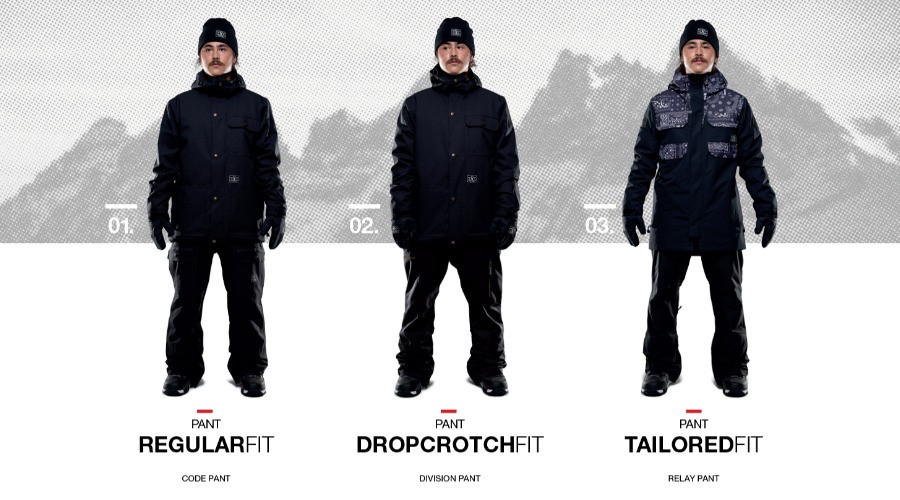 Tailored Fit (aka Slim Fit)
Tailored fit is fit snugly around the upper legs and fans out to below the knee to fit over your snowboard boots. Even though these pants don't leave a lot of room for long underwear or protective equipment, they look good and are favored by many seasoned snowboarders.
Regular Fit
Regular fit is a timeless style that is not too tight and not too baggy. It leaves more room for base layers and protective equipment such as butt pads or knee pads. The extra room also gives more freedom of movement which can come in handy when bending your knees to absorb landings or bumps on your way down the mountain.
Relaxed Fit
Relaxed fit offers even more room for dynamic movements and base layers. You might hear them flapping a bit more in the wind as you're racing down the hill, but you'll never feel constricted in your movement.
Drop Fit
Popular in the '90s and back in fashion with today's park shredders, drop fit gives ample room for layering up on cold days. When bending your knees to absorb a landing or a mogul field, you will feel zero constriction to your movement.
The Top Features to Look for on Your Next Pair of Snowboard Pants
This next section walks you through the wide world of features and which ones are must-haves on your next pair of snowboard pants.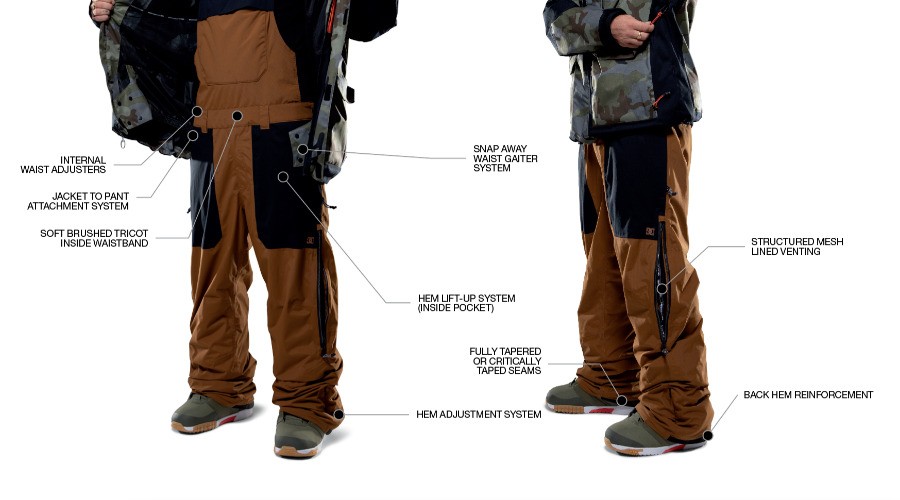 Vents
The importance of this feature cannot be underestimated. Vents come either on the sides or the pants or in the crotch area, allowing us to quickly ditch heat built up after an athletic run or a hike up the hill. Make sure that the vents have mesh lining in case you forget to close them on your run down, otherwise you'll have frosty legs.
Integrated Snow Gaiters
Snow gaiters are built into your inner pant cuffs and extend out to fit over your snowboard boots. Designed to keep snow out of your pants and boots when walking in deep snow, snow gaiters stay in place thanks to stretch panels and metal hooks that attach to your boot laces or boa wire. They come as standard on a pair of quality snow pants and are often treated with a durable water repellent coating.
Ticket Holder
Although not found on every pair of snow pants, ticket holders are a key feature for those springtime days when you want to take your jacket off but still need to show your lift pass.
Pockets and Zips
Quality snow pants offer enough pockets for your needs and fasten with either taped zips or hook and loop tape. Hand warmer pockets are essential for when your gloves get wet and cargo pockets can come in handy to store extra neck tubes or granola bars. If you like to listen to tunes while you ride, make sure there's an internal media cord routing system.
Reinforced Knees
Whether sitting on a chairlift or riding down the hill, our knees are constantly in contact with and creating friction against the snow pants. This can lead to cold knees and extra wear and tear in this region. For this reason, quality snow pants reinforce the inside of the knees with extra lining. Common materials used are mesh, brushed tricot or taffeta.
Zip Ankle Openings
Some snowboard boots have wider cuffs which require that your snow pants have a little bit of extra room to slide over them without busting the stitching. This is why zip ankle openings are a key feature to consider when shopping for snow pants.
Waistbands
Snow pants should feature internal waistband adjusters to give you the perfect fit. Jackets and pants are often designed to work together with jacket-to-pant attachment systems which prevent snow from getting where it shouldn't.
Scuff Guards & Hem Savers
If you want your brand new snowboard pants to keep looking fresh, then scuff guards or a hem lift-up system are key features to consider. Scuff guards protect the bottom hem of your pants with an extra layer of reinforced fabric. Hem savers or hem lift-up systems let you lift your leg cuffs via inner drawcords to stop them dragging.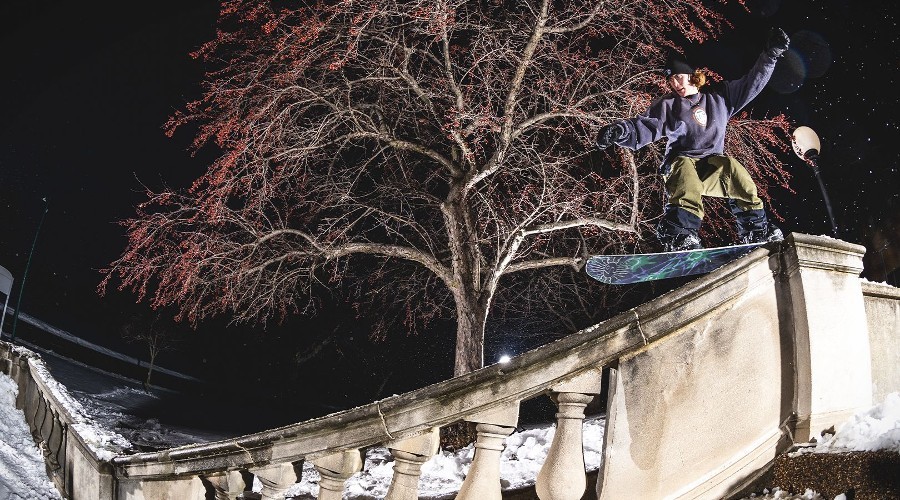 What is the Difference Between Ski Pants, Salopettes, and Snowboard Pants?
The main difference between ski and snowboard pants is how snugly they fit. Ski pants generally have a more tailored fit whereas snowboard pants are often a little baggier to allow for a more dynamic range of movement. That being said, skiers should have no problem fitting snowboard pants over their bulkier ski boots thanks to zip ankle openings.
Salopettes, aka bib snow pants, are all the rage and functional too. Designed just like overalls, in addition to protecting your legs from the elements, bib pants are held up by suspenders and have extra storage options in the chest area. Most importantly, they stop snow from going up your back, keeping your dryer and on the mountain.
Related Articles
The Ultimate Guide to Snowboard Clothing & Gear
How To Choose a Snowboard Jacket