How To Layer for Snowboarding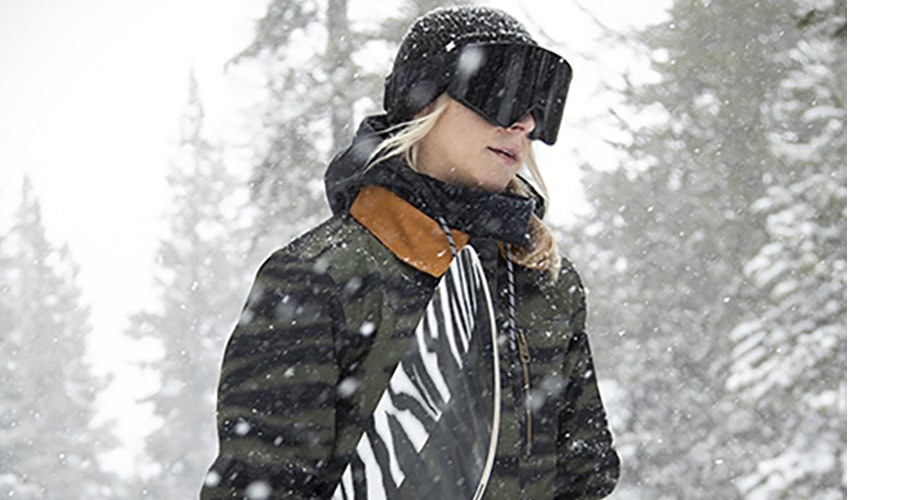 "How to layer for snowboarding" is a common question asked by snowboarders. Layers are an essential part of your snow gear and a well-planned layering system will ensure that you stay warm and dry throughout your day, ultimately having more fun on the mountain.
The three main types of layers you will want to have for snowboarding are:
Base layers, such as underwear, thermals and long-sleeve tops, which are in direct contact with your skin.
Mid layers, which can be added lightly or heavily based on the insulation of your outer layer and the conditions of the day.
Shell layers, which are the final layer of protection between you and the elements.
Each of these layers is important in their own way. To help learn why, here's a brief explanation of the different snowboarding layers that should be in your kit:
Layer
Function
Items
Base Layer
Keeps you warm without restricting movement.

Wicks sweat to keep you dry.

Allows some breathability.

Comfortable and soft on your skin.

Generally regulates your body temperature.

Wool or synthetic long-sleeve top.




Wool or synthetic long-leg bottoms.

Mid Layer
Adds to your overall insulation.

Maintains breathability to avoid overheating.

Wearable casually, before and after your sesh.

Allows for unrestricted movement.

Thin or thick fleece, depending on the temperature.




Sweatshirt or hoodie.

Shell Layer

Defends against moisture and the elements.

Allows for breathability to avoid overheating.

Provides some insulation.

Facilitates easy movement.

Keeps you dry.

Prevents snow soaking into your other layers.

Pants or bibs with DWR coating.




Jacket with DWR coating.
Base Layers
The best base layer for snowboarding is a garment that wicks moisture and sweat away from your skin. Moisture on your skin can turn cold and quickly make you uncomfortable. Specialized materials, such as merino wool, achieve this when snugly fit against your body. Base layers also act as your first layer of insulation and come in different thicknesses, aka weights:
Lightweight for warmer days or to be worn under heavily insulated snowboard pants and jackets. On a light day, a t-shirt and plain underwear may be the only layering you need.
Midweight for cold days or to be worn under shell-type snowboard gear. This could include long underwear, a long-sleeve thermal, and/or a hoodie.
Heavyweight for the coldest of days and days when you wanna have fun despite the conditions. This could include a combination of the lighter layers listed above and/or an insulated down or fleece jacket.
Weather conditions, temperature, the insulation of your outerwear, and your body's capacity to generate heat will all be important factors to consider when choosing your snowboard base layers. Because not all days are the same, having a few different types of base layers to choose from (e.g. weight, materials) is a good idea.
Base Layer Tops
Once you've checked out the day's conditions, it's time to layer up for snowboarding.
Starting with your base layer top, keep the following things in mind:
Thickness corresponds to how much heat you think you will need to retain on any given day.
Fit should be tight against your body with minimal gaps so that the fabric is in contact with your skin and can wick moisture away. It might feel weird to wear a tight shirt, but ultimately it will keep you warmer.
Materials, either natural or synthetic, will have an impact on overall moisture-wicking abilities and odor-retention.
Synthetic materials, such as polyester or nylon, will keep you driest and offer a stretchy feel for an uninhibited range of movement. Many snowboard outerwear brands use proprietary insulation fabrics like Sympatex® on their outer shells and even some layering pieces. These might cost a little more, but they definitely perform on the mountain by offering improved insulation and breathability at the same time.
Natural materials vary in performance with wool being the ultimate in insulation and odor-resistance. Snowboarders can go multiple days without needing to wash their wool garments which ultimately increases durability. Silk is another natural material used as a snowboard thermal base layer and offers great insulation but needs to be washed after every use.
Base Layer Bottoms
Base layer bottoms, commonly known as long underwear, call for the same decisions mentioned above (weight, materials and fit), with one additional consideration: length.
Knowing that the only piece of clothing we want in our snow boots is our snowboard socks, base layer bottoms are sold as either full length or capris. Despite potentially leaving your legs cold when not wearing snow boots, capris have the advantage of minimizing the amount of fabric that will be bunched up above your boot.
Mid-Layers
The main purpose of your snowboard mid-layer is to trap the heat your body radiates. There are several options ranging similar characteristics as base layers.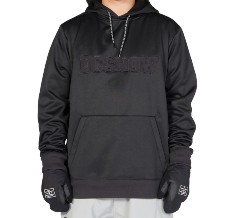 Fleece jackets or fleece sweaters are a common sight at ski resorts. Reason being, they are a good breathable mid-layer. They come in different weights but don't necessarily offer good wind-resistance.
Down insulated jackets are the ultimate in insulation and are categorized by something called fill power. To learn more about fill power, check out our article on "How To Choose Snowboard Jackets". Down will quickly lose its insulating properties when wet which is why many people prefer synthetic insulated jackets.
Light sweaters are a common sight in the springtime terrain park or on the lunchtime patio. Some sweaters are even DWR coated for those sweet sunny days. When it comes to natural materials wool is warmer, retains less moisture, and is more odor-resistant than cotton. Cotton is not recommended when it comes to snowboarding as it soaks up moisture and odor which can lead to feeling cold and uncomfortable.
Unless it's the springtime and you're not worried about heat-retention, or your mid-layer is treated with a DWR coating, you will want one final outer layer. That being said, having a mid-layer with DWR coating is always a good idea, regardless of your outer layer.
Top Layers
Your final layer of protection against the elements lies in your choice of outer layers. Snowboard jackets and pants come in different levels of insulation, waterproofness, wind-proofness and breathability. The best choices are the garments that fit your style and technical needs.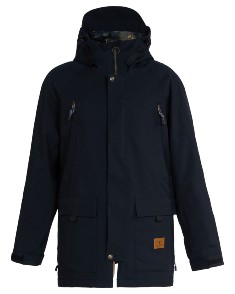 Outer Layer Tops
At a minimum, snow jackets are a layer of specialized fabric with a waterproof breathable membrane such as SYMPATEX®. These are known as shell jackets. Insulated jackets have a layer of either down or synthetic insulation added on the inside to keep you warm on the coldest days.
The highest quality jackets have welded seams and taped zippers to keep moisture from getting in. Other features such as cuff gaiters, snow skirts, pant-to-jacket attachment systems and vents are essential for a high-performing garment.
Read our guide on "How To Choose Snow Jackets" to help you navigate your options.
Outer Layer Bottoms
Just like snow jackets, you can choose between shell pants or insulated pants as your preferred outer layer. The advantage of choosing shell pants is that you can adjust your layering system, by choosing lighter or heavier weighted mid-layers, to provide the desired amount of insulation.
Insulated pants might not be the best choice on warm days, but are ideal to have on when the temperature drops. Thankfully, features like vents allow you to make micro-adjustments on the fly.
Read our guide on "How To Choose Snow Pants" to understand which features are most important for you.
Extra Factors to Consider When Choosing Your Layers
Adjust According to the Weather
The conditions in the area where you snowboard should be your bottom line when it comes to choosing your layering system.
Places where it can rain one day and dump a meter of fresh powder the next will call for a different layering system than snowboarders riding under perpetual sunshine.
A day riding the chairlift and a day touring in the backcountry will require different approaches to layering. Make choices that will keep you warm, dry, protected from the elements, and that fit your choice of activities.
Adjust According to Your Hot/Cold Sensibility
Not all snowboarders are made the same, one person's hot is another person's cold.
Listen to your body and trust yourself when you reach for the midweight fleece while everyone else is wearing lightweight. With experience you will learn how much heat you produce when snowboarding and which garments will keep you feeling your best.
Snow Accessories to Keep You Warm and Dry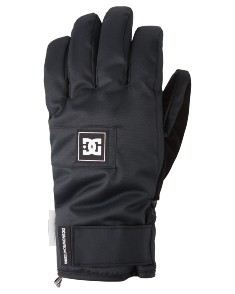 Gloves
Snowboard gloves are essential when snowboarding for three main reasons:
Insulation from the elements.
Protection from falls, sharp snowboard edges, and from other incidents that can leave your hands damaged.
Grip for when you're carrying your board to your car or tweaking that method grab in the air.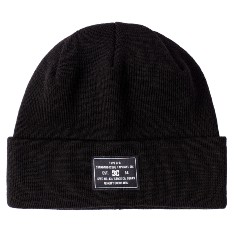 Beanies
We lose around 10% of our body heat through our heads and if your hair is wet due to a face-plant or a powder shot, that percentage will probably go up.
To keep your energy for actually riding rather than simply warming up your body, put a beanie on when you take off your helmet.
For more information, read our article on "Choosing Snowboard Gloves & Beanies".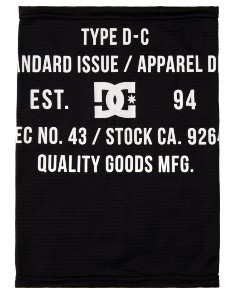 Neck Warmers
Neck warmers, aka neck tubes, are a key accessory on both cold and warm days. You can even find balaclava or "hoodieclava" neck warmers that will fit underneath a helmet or beanie.
On cold days, they'll keep you warm and prevent snow from making its way down the neck of your jacket.
On warm days, neck tubes offer protection from the sun. Unless you like the look of a goggle tan, wearing a neck tube is a wise choice for any snowboarder.
Socks
Socks offer some of the same considerations as base layers, including weight, materials and fit.
The essential thing is to wear a pair of dedicated snowboard socks rather than generic sports socks. Snowboard socks are ergonomically designed and built taller than your boots in order to minimize creases and bunching which can result in painful blisters or cold feet.
Think about the conditions of the day, the insulation of your snow boots, and your own heat sensibility before choosing which socks to lace into your boots.
Understanding your snowboard layering options can help prepare you for springtime sessions and sub-zero days. Adjusting your body heat against changing temperatures keeps you comfortable so that you can focus on having your best day on the mountain.
Related Articles
How To Stretch Snowboard Boots
How To Choose Snowboard Bindings
How To Choose a Snowboard Jacket
How To Choose Snowboard Gloves & Beanies