How To Choose a Snowboard Jacket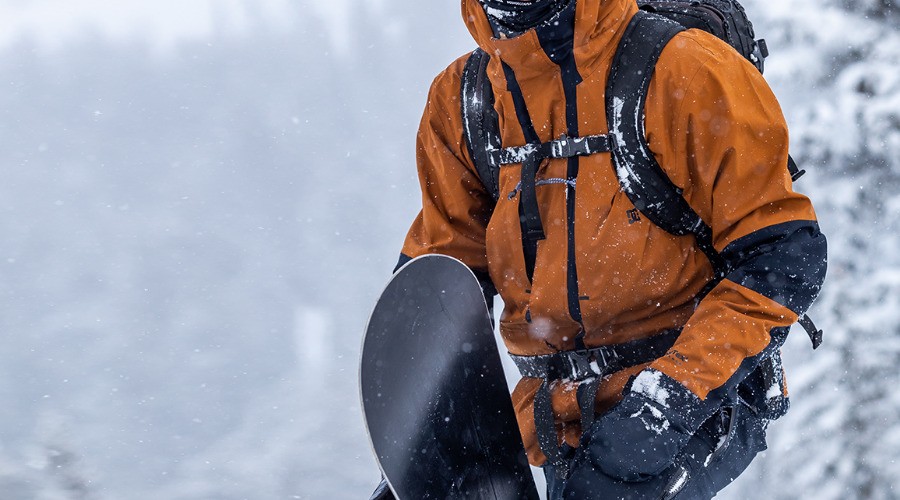 Are you heading to the mountain for your first time, or planning to start splitboarding in the backcountry? Insulation, breathability, weatherproofing, technical features, and fit are all important things to consider when choosing a snowboard jacket.
This guide will empower you by walking you through the wide world of technical features and teach you how to find the right jacket for your needs.
Different Snowboard Jacket Types
What is a down jacket? What is a shell jacket? Knowing the difference will keep you from shivering through cold days or sweating through springtime.
The main types of snowboard jackets are explored below in more detail.
Insulated Jackets
Insulation keeps us warm by creating air pockets in the garment that are warmed naturally by our body heat. In the world of insulated jackets, there are two types of insulation to choose from: natural (a.k.a. down) or synthetic.
A natural down jacket uses the soft little clusters at the bottom of duck or goose feathers to create that air space.
Synthetic jackets use plastic materials, such as Profill®, Thinsulate™ or Primaloft®, that are designed to mimic down insulation at a fraction of the cost.
Although down jackets offer more warmth per weight and better compressibility, most snowboard jackets use synthetic fill for two big reasons: warmth when wet and price. Unless you have the budget to invest in a hydrophobic down-filled jacket, you're probably going to want to be wearing a synthetically insulated jacket on the hill.
Down insulation is described with two metrics: Fill Weight (FW) and Fill Power (FP), whereas synthetic insulation is described solely with FW. FW can be thought of as the quantity of insulation, and FP can be thought of as the quality of the insulation.
Fill Power
FP describes the "loft" or fluffiness that 30g of natural down insulation can create. Remember, the more air space or fluffiness, the more warmth can be held.
FP ranges between 300 and 900+, and varies in price accordingly. A 600-650 FP jacket is considered to have good quality down and 700-750 FP jacket is considered to be of very good quality. Once you"ve chosen the quality of your insulation with FP ratings, you can move on to FW to choose how warm you want your jacket to be.
Fill Weight
When it comes to FW, higher numbers mean more warmth and result in a heavier jacket. An FW rating of 100g is good for walking around a city or for early season. Look for 150g or more if you want to stay nice and toasty on that chairlift ride up the mountain. If you're learning snowboarding for the first time, plan to do a lot of hiking this season, or you'll be snowboarding in warmer temperatures, try to avoid a highly insulated jacket. Those kinds of activities will produce all the heat you need.
Hardshell vs Softshell Jackets
This choice comes down to the weather you'll be facing and the intensity of the activity. If you're looking for maximum weather protection, a hardshell is what you want. If you're looking for an underlayer or don't think you'll get very wet, a softshell can do the trick.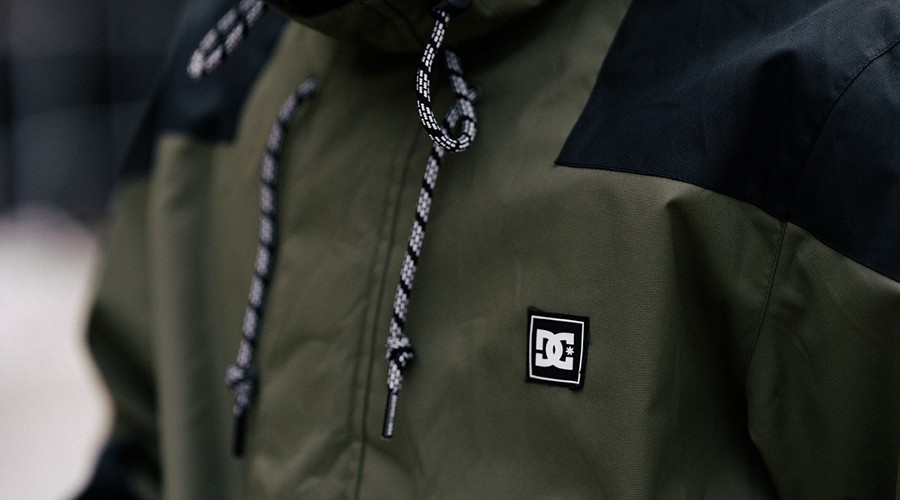 Hardshell
A hardshell jacket is your first layer of defence against the elements. Depending on waterproofing and breathability ratings, explained in more detail below, your hardshell is designed to keep you dry in a mid-winter blizzard or a mid-summer downpour. Hardshells typically come with features such as adjustable hoods, taped front and pocket zippers and wrist gaiters.
Hardshells are built to withstand abuse from both your riding and from the environment. The level of protection comes down to the materials used to make the jacket, with nylon being the most commonly used. Nylon is extremely durable and robust, although it might feel a bit stiff and plastic-like. If you're trying to make your first turns or land your first back lip on a down rail, a hardshell will stand up to all the falls you're likely to have while learning.
Softshell Jackets
Softshells, as the name suggests, are softer than hardshells. But don't let the softness fool you as most softshell jackets are also designed to give you protection from the elements.
The softness of a softshell can be attributed to its material. Softshells are most commonly made from polyester, a synthetic material that can bend more easily but is less robust than nylon. Many softshells come standard with adjustable hoods and zipped pockets. Sometimes a hood can be bulky when wearing your softshell under your hardshell, but it can be nice if wearing it on a brisk fall day. The best part about softshells is that they can bring a whole new level of warmth to a standard hardshell.
Be sure to check the waterproofing and breathability ratings, explained in more detail below, to know which softshell is right for you.
3-in-1 Jackets
A 3-in-1 jacket is a hybrid of a hardshell and a softshell (or a fleece) to give you the best of both worlds. The hardshell provides the protection against the elements, and the softshell or fleece, which zips into the hardshell, provides the insulation needed on cold days. The inner layer can be worn on days when the weather is a bit easier to take or when you're kicking your boots off on the patio after your day on the slopes.
Waterproofing and Breathability
Think about where you live, the kind of riding you'll be doing and whether the moisture will come from your body, the environment, or both. This will help you determine which jacket is right for you.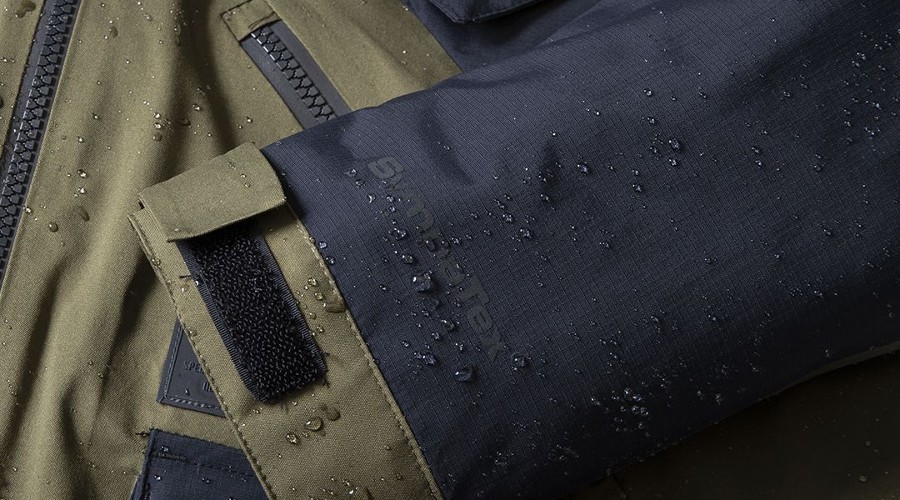 Waterproofing
Water resistant jackets protect against light rain with the help of a water-repellant (DWR) coating on the outside of the jacket. The coating lets the water roll off and not soak through the fabric, up until a certain point.
Waterproof jackets on the other hand, often have a waterproof membrane, such as Gore-Tex, built into the jacket in addition to the DWR coating. Also, most waterproof jackets have taped seams which simply means a special type of tape has been melted onto the places that might leak to plug up holes. When jackets are made, the needle stitching used to hold the pieces of fabric together can create millions of tiny holes in the garment. Also, some materials are more naturally porous than others. So, without taped seams you might feel water trickle in during a heavy downpour or an extended time outside. That's why the highest quality jackets feature welded taping — where fabric pieces are melted together to avoid any sew-throughs.
Understanding Waterproofing Ratings
You might have seen numbers like [10K/5,000g] or [45K/20,000g] written in feature descriptions. In a nutshell, the higher the numbers, the higher the performance, and often a price tag to go with it.
The first rating communicates waterproofing and typically ranges from 5K to 45K.
A 10K jacket can withstand 10,000 mm of water held in a 1 inch by 1 inch column over the fabric's surface before it leaks.
A 20K jacket can withstand 20,000 mm of water in the same way.
Simply put, 5K jackets are good for light rain and a 15K-45K jacket is what you want in heavy weather.
Many brands are now employing a new fabric called SympaTex®. This non-porous fabric is 100% waterproof and 100% windproof thanks to a special membrane that transports moisture and heat away from the body to prevent overheating. Basically, Sympatex® jackets become more breathable as body temperature increases, all while maintaining top-tier waterproofing.
| Rating | Good for |
| --- | --- |
| 5k | Light rain or snow for short periods at a time. |
| 10-20K | Moderate Showers and snowfall. Best if your knees and backside come in contact with the snow often during your day. |
| 45k | Best for a full day of riding in heavy weather. |
Breathability
The second rating communicates breathability which ranges from 5,000g to 20,000g and above. Bear in mind that sweat freezes in winter which is why breathability is a key spec to consider. More breathability means you're less likely to have clammy skin, which can quickly become cold when the temperature drops.
A 5,000g jacket will let that amount of water vapour, a.k.a your sweat, pass through a square meter of fabric in 24 hours. For resort-riding a 5,000g jacket should be OK, but if you're hiking the bunny slope or the backcountry a 20,000g jacket will keep you drier.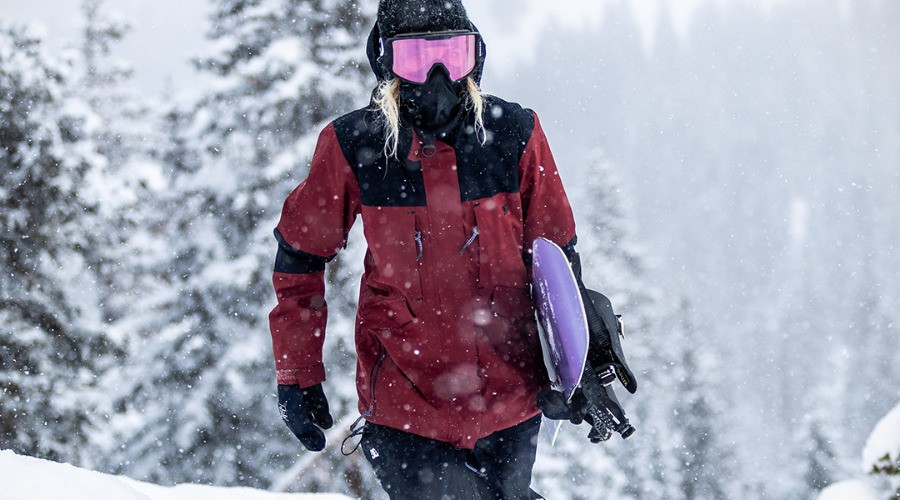 How To Choose Your Size and Fit
How should a snowboard jacket fit? The three most common types of fit are: slim fit, regular fit and loose fit. Style preferences, your body type, your need for warmth and the type of snowboarding you do will all play a role in your choice.
Slim Fit
Slim fit, also known as tailored fit, is fit closer to the body around the chest and midsection. The tailored fit is a favorite for park riders and snowboarders for its style. One thing to consider with tailored fit is that it might leave you a bit chilly on cold days as there is less room for layering and insulation.
Regular Fit
Regular fit doesn't hug the body as tightly as slim fit, and leaves you more room for layering up on colder days. If you have a larger chest or midsection, then regular fit will feel less constrictive than slim fit. And you're sure not to put pressure on the seams when reaching down to do up those bindings or tweaking your tail grab.
Loose Fit
Lastly, the loose fit — which rose to fame in snowboarding's beginnings — is making a comeback with younger riders. Loose fit, with ample room around the chest, midsection and arms will give you lots of space for layering up on cold days. And you won't feel any constrictions at all when bending over or winding up for a rotation.
Snowboard Jacket Features
It's time to walk you through all the bells and whistles that make your jacket feel special. There are certain must-have features that will help you stay comfortable on even the coldest and wettest of days.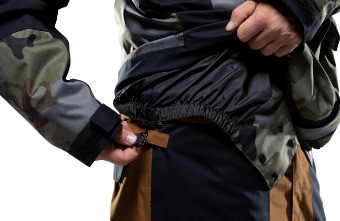 Snow Skirts and Attachment Systems
Snow skirts are essential and come as standard on any quality snowboarding jacket. Snowskirts are the stretchy extensions of your jacket that attach to your snowboard pants to keep the snow on the outside, even when you're sitting. Jacket to pant attachment systems provide an extra layer of protection making sure your jacket stays low and your bare back is never exposed to the elements.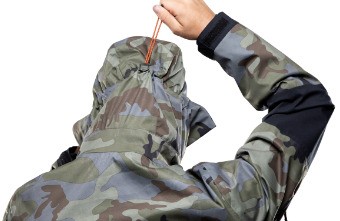 Hood Features
Two-way adjustable hoods allow you to cinch your hood up around your face on cold days and shorten or lengthen the hood to fit snugly around your helmet. This is an ideal feature to keep the snow out and keep you warm. A storm flap acts like the brim of a hat to keep water from dripping on your face.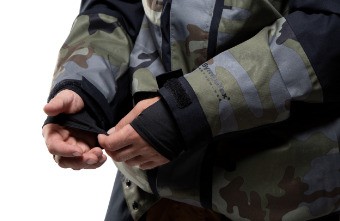 Cuff Gaiters
Just as you don't want snow up your back, you don't want snow in your sleeves. Cuff gaiters keep the snow out by securing your sleeves to your gloves or mitts for maximum protection.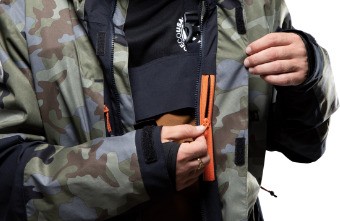 Pockets and Zips
Make sure your jacket offers enough pockets for your day in the mountains. Ideally your pocket zippers will be taped for maximum waterproofing and zip closed in the downward direction to avoid being opened when doing penguin slides.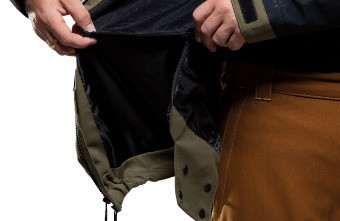 Jacket Linings
Jacket linings are the innermost pieces of fabric in a jacket. While fleece linings are common in streetwear, most snowboarding jackets offer mesh or taffeta, a silk-like material, lining to provide maximum breathability.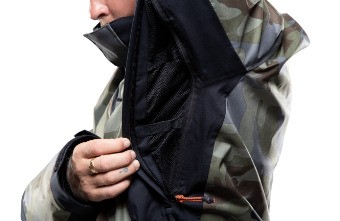 Vents
Pit zips come standard on most high-quality snowboarding jackets. They provide a quick way to vent excess heat and are lined with mesh to keep the snow out. These are a must have for days spent hiking, doing non-stop laps or shredding a springtime session.
Differences Between Ski and Snowboard Jackets
While insulation, breathability and waterproofing are universal, the main differences between ski and snowboard jackets are found in the fit and features.
Snowboarding jackets often feature a drop-tail design to give an extra layer between you and the snow when you need to sit down.
Ski jackets tend to have a tighter and shorter fit because there's generally less need for movement and backside protection.
Skiers can wear a snowboarding jacket, but as a snowboarder it's best to wear a jacket built specifically for our sport and lifestyle.
Related Articles
The Ultimate Guide to Snowboard Clothing & Gear