Susie Heath Gets DC's First-Ever Women's Rider Colorway
November 08,2022
We're beyond hyped to finally release the Susie Heath Manual S Slip On… DC's first-ever women's rider colorway! It's a super durable and skateable slip-on, and Susie added some personal touches — from the custom daisy artwork on the foxing tape to the Ohio flag print on the heel. We caught up with Susie to talk about designing the shoes and so much more.

SHOP THE SUSIE HEATH MANUAL S SLIP-ON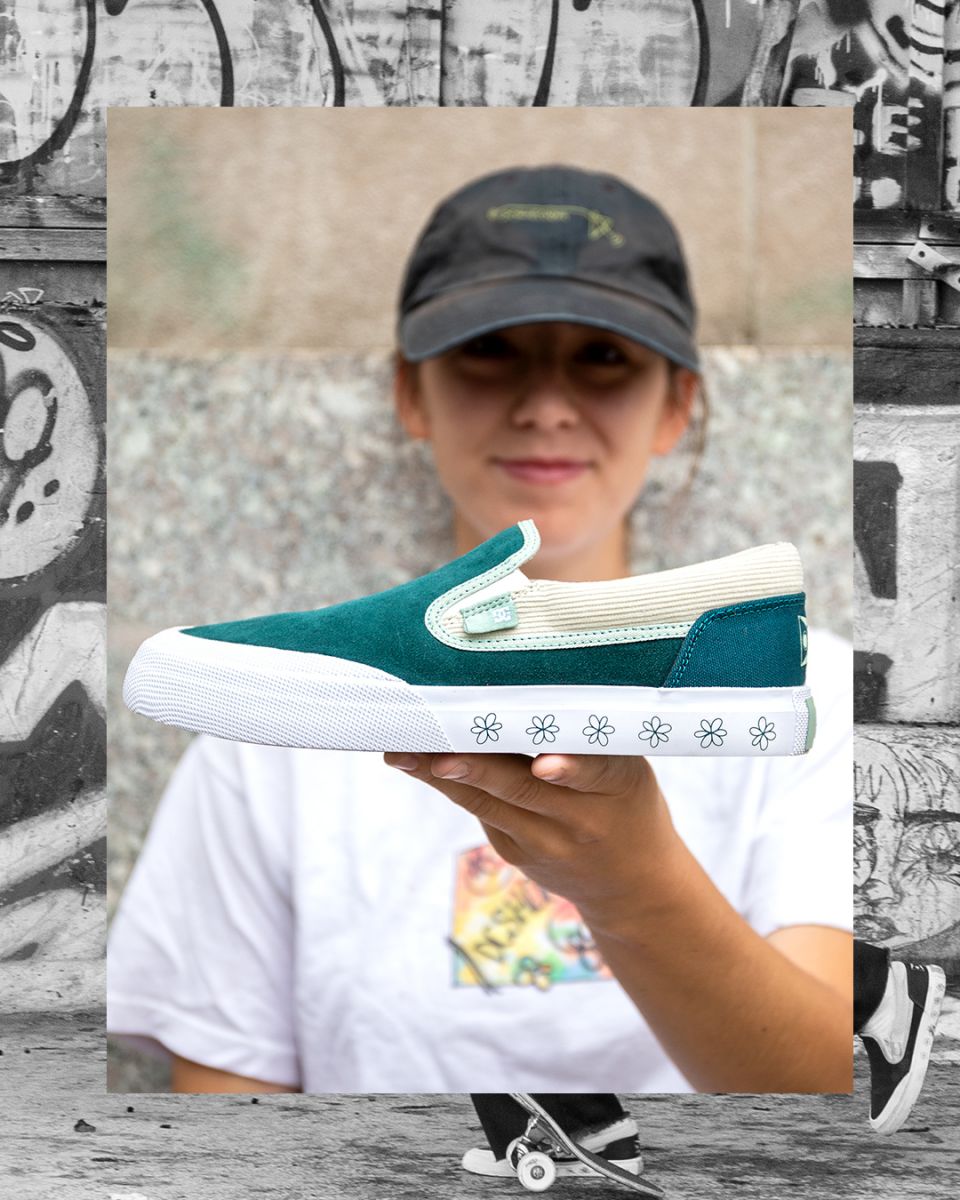 How does it feel to have DC's first ever women's skate colorway?
It's a very exciting and scary feeling. When I received the call, I initially thought I was getting kicked off DC. So you could imagine how I felt when they told me that I was going to get my own colorway. I was shocked to say the least. Not only that, but I was going to be the first woman to have a skate colorway! It's a scary feeling because this is one of the biggest opportunities I have ever had in my entire life. To have the opportunity to create a shoe that is extremely personal and then present it to the world is a scary experience. Also, allowing DC to trust me to represent its company on behalf of all the women that skate for it. There are so many talented girls on DC that all deserve this opportunity, but to have DC pick me is an overwhelming feeling. Sometimes I still feel like I don't deserve it. I'm still trying to figure out why they provided me with this amazing opportunity.
What was it like designing your own skate shoe?
If you would have told me to design a skate shoe before I was given this opportunity I would have told you it would be so easy. Let me tell you, it is not. There are so many colors, concepts, themes you can go down and never be 100% convinced you found the right one. When I started to think about what I wanted the concept of my shoe to center around, I instantly started thinking about all the people in my life that have helped me get where I am today. Even with a concept, I legit had no idea what to do next. I knew I needed to somehow try and put the shoe on a computer to start messing around with colors but I had no idea how to do that. I tried using my computer and outlining the shoe by hand with the limited software I had but that wasn't working. However, I forgot my older sister Rachel, who lived in Colorado at the time, had gone to school for graphic design and was going to be home in a few days. When she got home she got to work and put the shoe into the software on her computer in like two seconds and we were off and running. We were trying almost every color combination you could think of, placement of different flowers, and so on. Even when we thought we had a good idea, someone would point something out. We were trying to be shoe designers without any idea on how to be one, but it was such a fun experience.
Can you explain what "Never in the dark" means to you?
The overall premise of the shoe is a thank you to everyone who has helped me get where I am in life today; whether that person is a friend, family member, or someone who has helped push my skating career. The phrase, "Never in the dark," is a saying my roommate Elise and I came up with. It means no matter how alone you feel there is always someone there for you such as family and friends. Someone always in your corner willing to listen to you and willing to be present even in your darkest times. Someone who is always rooting for you. Who reminds you that you are never alone. The saying also plays off of the flowers as well. Flowers will never grow without light, they need the sun. We are like flowers, we need light in our life to grow and progress. If you don't let people in (like the people I have let in my life) and allow them to share their light, you will never see all the beauty there is in life and never feel fully fulfilled.
Tell us where you're from and how you got into skating?
I am from Loveland, Ohio. It's about 30 minutes outside of downtown Cincinnati. I initially started skating because of the neighborhood boys I grew up with - but don't tell my cousin Andrew because he says he is the one that got me into skating. Anyways, we would skate only one day during the summer and most of the time it would be spent sitting on our butts going down our driveways. Eventually we all started getting into it a little bit more and I remember my parents bought our neighbor a Walmart skateboard for her birthday and I was glued to it. I wanted it so bad and I even cried when they said I couldn't have it. Eventually, I did get my own Walmart board and I loved that thing. I finally had my own skateboard. However, it was short lived. My neighborhood friends and I weren't the smartest, as little kids are, and we left our skateboards outside on the side of my parents house and the next morning all 12 of our boards were gone. Never to be seen again. I probably didn't start skating again until my cousin Andrew started skating himself. We were really close when we were younger and so whatever he did I did. So naturally, I started skating again when he did. Around the same time, I was probably 10, my mom told me one night that I needed to get involved in something, literally anything and she would help me get started. I don't even remember how I even found out, but I learned that there was an indoor skatepark in Northern Kentucky called Ollie's Skatepark that had skateboard lessons on Saturday mornings. I told her about it and the next Saturday we went. We went almost every Saturday from when I was 10 till I could drive myself at 16, from 8 AM till 1 PM. Not only that, it was a 45 minute drive so we had to leave really early. My mom did this on every one of her days off for six years. Obviously my dad and even my sister would take me every now and then, but for the most part it was my mom who took me which I am forever grateful for. I also took lessons on Tuesday nights at a local indoor skatepark that was about 15 minutes away from my parents house. My dad would take me to those lessons, but I eventually stopped going because I ended up not enjoying it as much as just skating by myself. These lessons were where I learned how to skate, but Ollie's was the biggest contributor to my skating and really shaped who I am today. I made almost all of my friends one way or anything at that skatepark and some of my all-time favorite memories come from there.
What's it like touring with the Toy Machine crew?
Touring with the Toy Machine and Foundation guys is amazing. Everyone is so down to earth, humble, and supportive. They are always hyped when you land whatever you are trying and make you feel right at home. I didn't think I would be getting into the van with them as quickly as I did. I thought it would be a few years before I got into the van, but it only took I think 2 or 3 months since getting on Toy Machine before I was in the van and skating with the guys. The first trip I went on was seriously amazing, just seeing the guys skating these huge rails that I wouldn't even fathom someone skating was mind blowing. That first trip was a life changing experience, it made me realize what I truly wanted to do for the rest of my life. When touring, the day to day kind of looks the same for almost the whole trip. You wake up, kind of do whatever you need to do in the morning, and then meet up at the van around 10 AM. We then go to Whole Foods and you get all your food for the day. Then we might go to a skatepark and warm up for like an hour and then head out and skate spots all day. We usually stop skating when the sun goes down and then go and get dinner and maybe dessert if it's a good day. Days are long on tour, but being with the crew truly makes everything so worth it.