MANUAL FOR CHANGE
February 02,2021
To introduce our all-new model, the Manual, we partnered with dozens of like-minded artists from around the world to create one-of-a-kind works in that will be auctioned off in support of Art Works for Change.

Each artist drew inspiration from an issue that's near and dear to their heart and created an original design using the Manual as their canvas.

The Manual For Change auction will be live February 2nd -10th with 100% of the proceeds going to support Art Works for Change. By bidding on these one-of-a-kind originals, you're ultimately helping to promote awareness, provoke dialogue, and inspire action.
Links:
See all of the artist's original works - dcshoes.com/blog/CULTURE/
See all of the works that were auctioned off for charity - 32auctions.com/manualforchange

Exhibiting Artists
Adam Hathorn, Andrew Schoultz, Angela Nguyen, BB Bastides, Ben Brough, Brian Bent, Chantal De Felice, Chloe Kovska, Connor Getzlaff, Danny Creadon, Dave Warshaw, Evan Smith, Greg Simmons, Hajop Najarian, Hana Tek, Jason Adams, Jeff Kubasak, Lou Barberio, Maaden Ramos, Marc "Beatle" Lindenmeier, Marisa de la Pena, Matt Loomis, Mike Giant, Mikey Hottman, Nick Simich, Otis B, Pat Bieck, Rex Copeman, Robert "Kerupt" Zanghi, Ron Cameron, Sam Hitz, Sam Pierson, Steve Tierney, Tatiana Kartomten, Taylor Smith, Thomas Fernandez, Ty Segall, Wes Kremer, Zac Amendolia.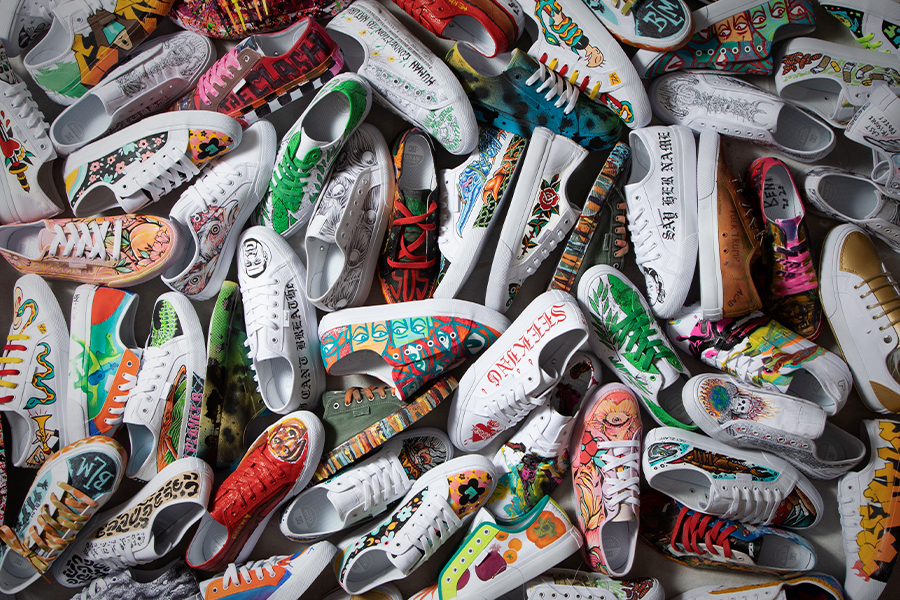 "We're honored to partner with DC Shoes on this content-driven project. The amazing artists featured in the auction draw from a diverse set of creative approaches to help us envision a more positive future. It is our privilege to join them in their vibrant calls to action, and to thank them for supporting our work." - Art Works For Change

ABOUT ART WORKS FOR CHANGE
Art Works for Change is a nonprofit arts organization based in Oakland, California. The organization creates contemporary art exhibitions that are hosted by museums and other fine art institutions throughout the world, and are experienced by millions of visitors. Through contemporary art exhibitions and community programs, Art Works for Change harness the power of art to address issues of serious concern - human rights, social justice, gender equality, environmental stewardship and sustainability in creative, inspiring, and ultimately positive ways. These immersive exhibitions meld the efforts of artists, advocacy organizations, fine arts institutions, and local communities into a united force for change.