Josh Kalis Get "Bobsified" for DC x Bob's Burgers Collab
May 01,2021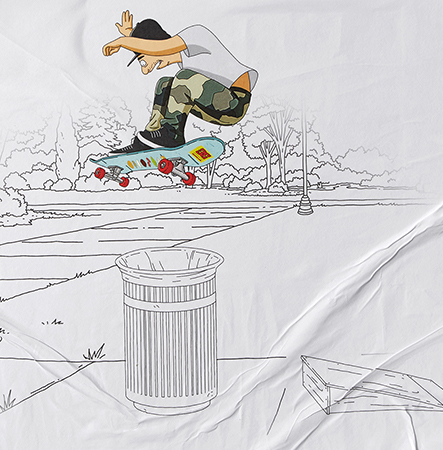 The custom Kalis OG is definitely a standout piece from the DC X Bob's Burgers collection. The bright color details and glow-in-the-dark outsole make it pop on the pavement, and we especially love that it features the Bobsified animation of Josh Kalis on the insole. To talk about bringing Kalis (at least in animated form) into the Bob's Burgers universe, we chatted with Josh and two designers from the show who brought the whole project to life.
Josh Kalis Talks Bob's Burger

Hey Josh, do you watch Bob's Burgers very often?
Yeah, it's always on at the house.

Do you have a favorite episode and/or character in the show?
Man... I don't know if i could pick a favorite. I'd say it's between the Go-Kart episode ("Speakeasy Rider"), or the one with the bikers that helped get Louise' ears back, lol ("Ear-Sy Rider". There are so many good ones. But as far as my favorite character... I would say Louise for sure. She's dope.

The iconic tre flip photo from your first pro shoe ad has been an ever-present image in skateboarding. What was it like to see it Bobsified?
It's amazing... absolutely honored.

What did your family have to say about seeing you animated as a Bob's character?
They think it's awesome. Especially Lila. She said "WAIT!!... you're a Bob's character??" She was trippin'.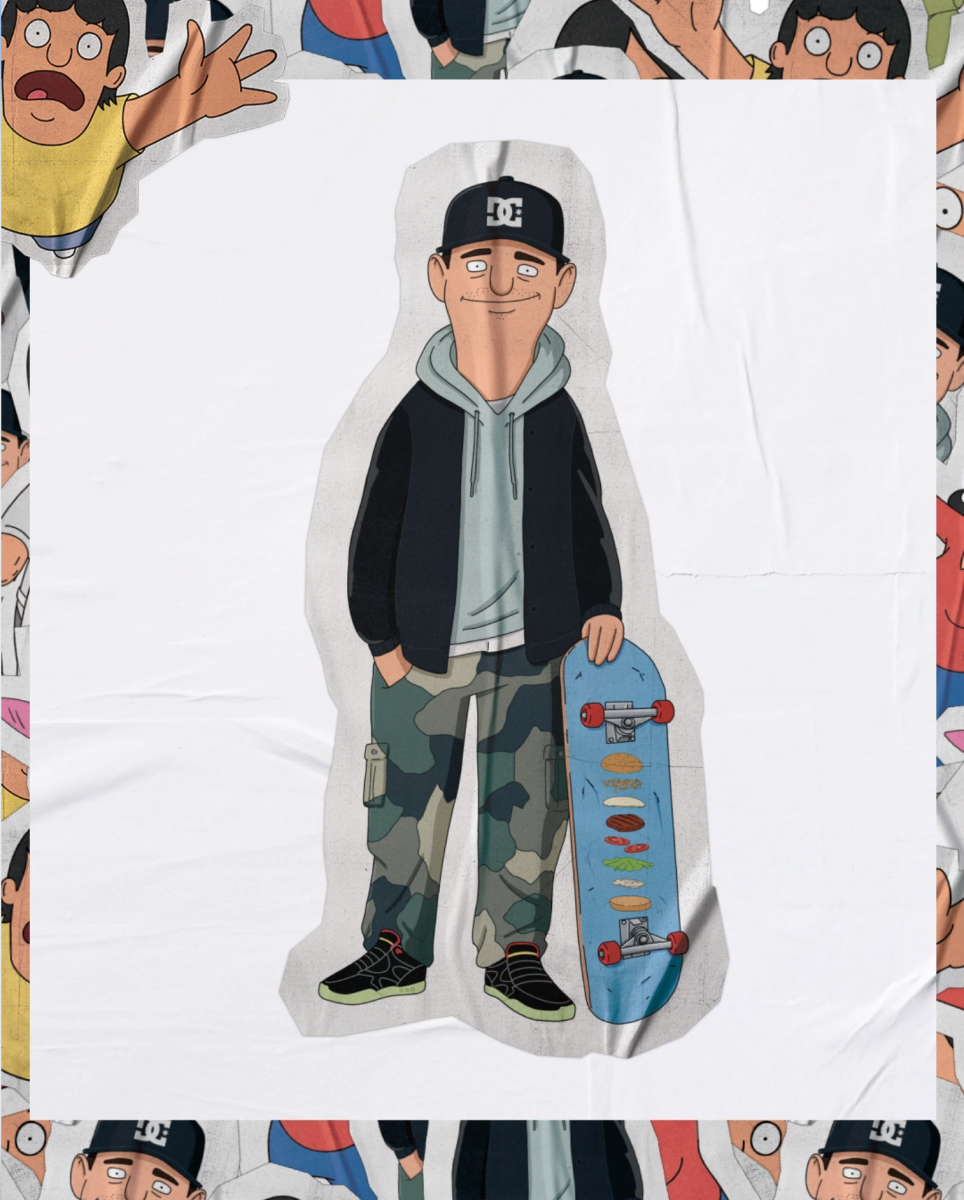 Bob's Burgers prop designer Anthony Aguinaldo and character designer Hector Reynoso gave us some insight into the show and what it was like working on the collection.
So, what are your roles at Bob's Burger?
Anthony: I'm a prop designer on the show, so I don't actually animate characters. A prop is any object a character interacts with. So, if a character was on a skateboard, my job would be to design the skateboard.
Hector: I worked with Anthony in the props dept for the last 10 seasons and just recently moved into character design but havent had the chance to animate.

What's your favorite Bob's episode?
Anthony: "Burgerboss" and "The Bleakening" (it's a Christmas episode) are my two favorite.
Hector: "Poops!...I Didn't Do It Again." I can relate with Louise's predicament in the episode. LOL.

Is there a particular episode or scene that you really enjoyed working on?
Anthony: I really enjoyed working on the episode "The Handyman Can". It was a very difficult episode to work on because it was a three part episode. But there was a part in the episode when Teddy turns the restaurant into a giant robot. I designed the restaurant as a giant robot. I was able to reference Transformers and Voltron, which were some of my favorite animated shows growing up.
Hector: I really had fun designing the Talking Toilet voiced by Jon Hamm from "O.T. : The Outside Toilet" and also working on fantasy episodes like "Gayle Tales" and "Mom, Lies and Videotape."

What was your process for animating the Josh Kalis skate image?
Anthony: Hector usually designs the characters and puts them in Bob's style. I usually color the final black and white image.
Hector: I first try to get as much reference material on the subject or person i'm designing. Then I try to do a few quick rough sketches just to get the feeling right. Once I like what I see, then I will go ahead and put the finished line.

Do you have any history of working with skateboarding?
Anthony: I don't have a history working with skateboarding. I did skate when I was younger, I was never really good at it, but I enjoyed it. I was always a fan of the skating culture. I love the designs of the boards and the stickers.
Hector: A few years ago got a cool assignment to do some art for skateboards. I really had lots of fun doing it.

All of the skate references and images in the show are very authentic, are there many skaters on the Bob's team?
Anthony: I think there's a few people on the crew that skates. What I think makes this show great is the attention of detail that the crew puts into it. A lot of research is involved to make things as authentic as possible.

All of the Burgers of the Day recipes were somehow delicious, but also authentic to skateboarding… how did you manage to strike that balance?
Anthony: For these burger of the day recipes, Mikey (head of alt content) created the recipes. He then passed it along to his friend Chef Alvin Cailan to make sure all of the ingredients worked well together. Once that was good, Hector and I designed the burgers. We would usually research how the ingredients looked and put them in the show's style. It's a long process but we want to make sure if someone wanted to actually make one of these burgers, it would taste good.