DC x Bob's Burgers Collection
May 01,2021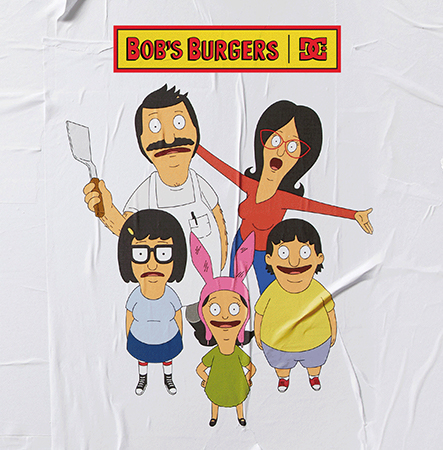 NOW SERVING! The DC X Bob's Burgers Collection.
If you're here, you already know about the greasy collab we cooked up with Bob's Burgers. At DC, we're big fans of the Belcher's irreverent comedy, so we were happy to hop in the kitchen for this limited collection. It mixes all the ingredients of DC's authentic skateboarding footwear with the gust-busting comedy of Bob's burger-slangin' universe. With over 200 episodes (and counting!), there was a wealth of irreverent inspiration to draw from. The end result is a wearable collection that will excite superfans, casual watchers, collectors, sneakerheads, skaters and everyone in between.
Rather than just putting Bob's Burgers branding on our favorite DC styles, we took it a step further. Fans of the show love the unique Burger of the Day names on the board in each episode. So, we worked with the Bob's Crew and Chef Alvin Cailan to craft unique Burger Of The Day recipes inspired by skateboarding tricks. We knew our burger names honor the show while being true to skateboarding, but we also made sure the recipes are seriously delicious. In fact, you can watch videos of Chef Alvin cooking up all seven burgers with Wes Kremer and Ish Cepeda. WATCH NOW.
The rest of the lineup features unique prints inspired by the show—from the ketchup and mustard pack to custom animations of the characters. But, the real showstopper of the collection is the Kalis OG which will be dropping on 5/15. With a Bobsified animation of Josh Kalis' iconic 360 Flip at Love Park. and a glow in the dark outsole, this might be the most unique Kalis OG ever.
No matter what you're in the mood for, the DC X Bob's Burgers collection has something for everyone. Some of these pieces are gonna sell out fast, so order up!