Aleka Lang Interview | NorthUnda
February 15,2022
We're proud to introduce DC's newest am! Hailing from the Great White North of Vancouver B.C., Aleka Lang has been turning heads on social media with his silky style and tasteful trick selection. And now with NORTHUNDA, he stepped it up and has his first official DC part under his belt. Aleka is just getting started and we can't wait to see what happens next, so we called him up to chat about filming for NORTHUNDA and so much more.

WATCH ALEKA LANG'S NORTHUNDA PART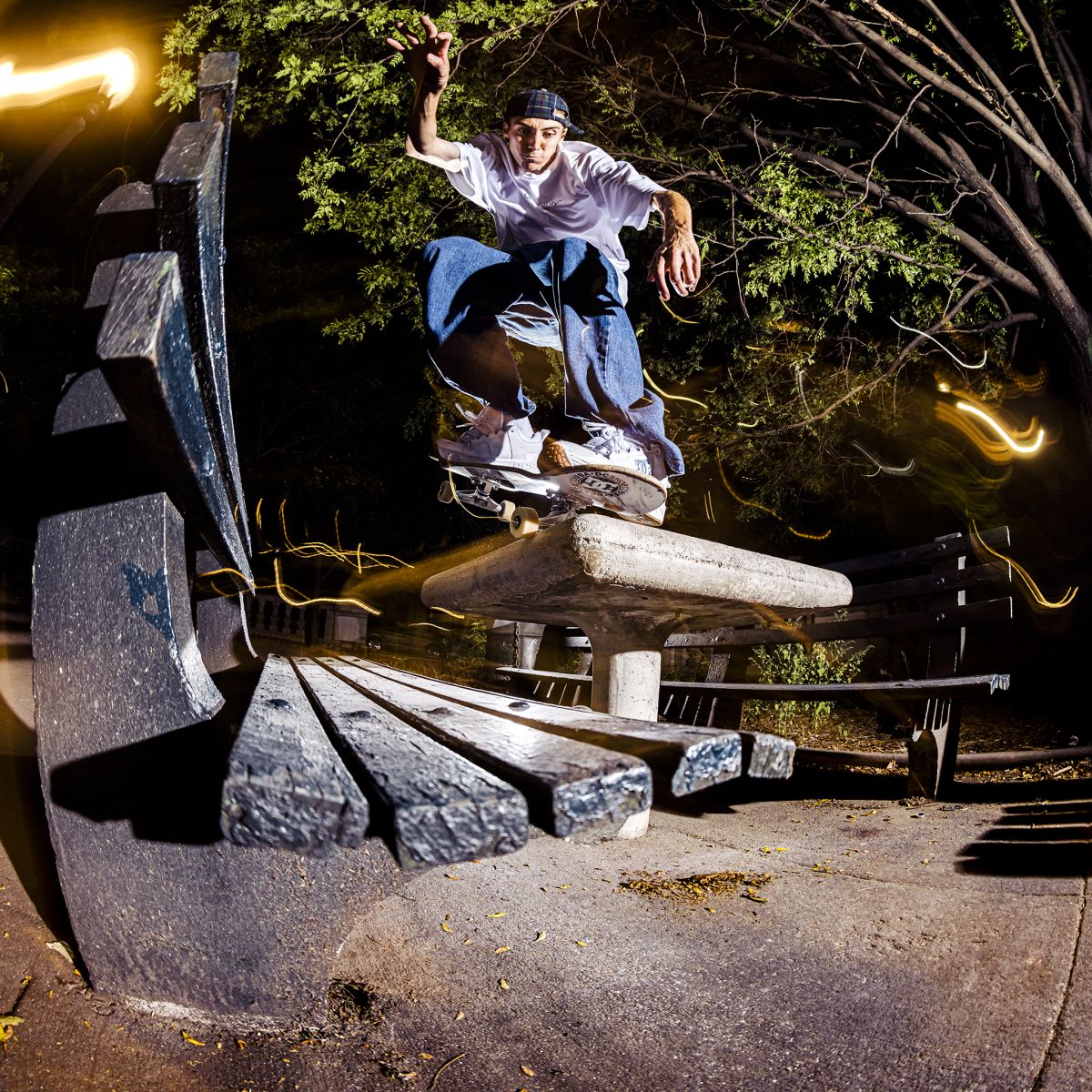 INTERVIEW:

Aleka, what's up. Where are you from exactly.
Yo! I'm from Vancouver, Canada. I lived out here in the city with my family till I was 10 then we moved out to the suburbs to a town named Tsawwassen. Then I moved back out to the city on my own when I was 19.
There are a lot of greats that came out of Vancouver over the years. Who are your top 3 pros to ever come out of Van?

Spencer Hamilton - Grew up watching him skate the Vancouver Plaza. Dude had a lot of influence on me. It's sick to be skating with him now.
Dan Redmond - Though he may not have been technically pro, he should have been. This dude had a lot of influence on me too and he showed me Lords of the Underground. Super tech skating. Kickflip front tail 270 kickflip out! Illest dude.
Mikey Ray - The good homie that just turned pro. Taught me kickflips and in highschool he tutored me in math. Ha!
Northunda part dropped recently. What's the process been like filming for this part?
The filming process was chill. My homie Chance who filmed most of the part, has been filming with me for years. We were already filming lots in the spring so when I got told about making this part we started stacking for real. But then I rolled my ankle and was out most of the summer so that delayed filming. Vancouver is really wet city and in the fall it just mostly rains so being able to get out on a couple trips really helped a lot. I've never filmed a video part like this before so I got stressed out near the end about how the part was gonna look but I'm psyched with how it turned out.
Did lockdowns affect your opportunities to get on more trips to film?
Yea at first I wasn't able to get out of Vancouver at all. Travel restrictions kept changing but I ended up being able to get out to NYC and SF at the end of 2021.
In the last few months you were able to get out a little bit and go to NYC to skate with Shanahan, and you got to get over to SF as well. Were those your first trips outside of Canada?
I went on a small weekend trip down to Portland with the Menu crew a bunch of years back but NYC and SF were my first real skate trips for sure. I've never had the opportunity to travel much before. So it was such a sick experience. NYC is unreal. I was tripping. So many spots and so much going on. Birthplace of hip hop damn haha. Shouts out John for letting me crash at his crib and showing me all the illest spots. Got mad love for SF too. So crazy being able to skate the pier uncapped!
So you live with your lady, Jess, and Cooking seems like a big part of your guys life. Tell us about that.
Yea man! Both of us grew up in a house full of soul food. My parents cooked every meal at home. And I used to work in kitchens since I was 15. Jess and I were already cooking lots together but when covid started and everything went into lockdown mode we started cooking every meal at home, learning new recipes, watching food shows and all that. We got into the habit of a balanced diet and eating healthy most of the time. And cooking for us is just really fun, we put on some music, get a good vibe going and enjoy some homemade grub.
You recently picked up Cash Only as a board sponsor and she filmed a bunch of stuff for that, as well as that Menu edit. Does she film all the time? How'd all that start?
Yeah! It was super natural. Jess has been making videos and taking photos since she was young way before we met. It's always been her thing. One day Jess filmed me for an Instagram clip and I was like yo what if we filmed with a real camera? Then the lockdown happened and we were both unemployed so we started filming and making fun edits. Then our homie Nic from Sneeze Mag hit us up to film a part so me and Jess went and bought a small cheap handy cam and made a little video for Sneeze. After that the homie Teen who worked at Menu at the time was really psyched on Jess's filming and asked her to film the Menu video. Syd the owner of Menu even bought her a new 4k camera to film with cause he wanted her to be able to use it for other job opportunities. So shouts out Menu for being the realest. And Sneeze for always backing us. And while we were out filming for the Menu video she was also filming a couple clips for NorthUnda. Then Cash Only started and she duct taped a fisheye to a HI8 camcorder to film Phonebooth. Now she's currently working on a lot of dope things so keep your eyes peeled!
You were noticed by DC because you obviously fit the bill, but you were already wearing the shoes. What drew you're interest toward DC?
I've always been into 90's/early 00's skating and I got memories of my dad skating in DC's from when I was mad young. Throughout high school I skated tons of DC's and shortly after was watching Photosynthesis and Zoo York Mixtape almost everyday. I used to wish that I could skate an OG lynx. It's crazy to me that they are really back. I guess what really drew me towards DC was the look of the shoes and the rich history. And of course ima big fan of the OG skate team. I got big feet, so a narrow pointy shoe on my foot looks crazy to me. I love a puffy skate shoe.
Did you ever think we would be here doing this interview talking about your first video part dropping with DC?
Nah man, did I ever wish for that? Absolutely. But did I ever think I would be here talking about this? Definitely not. Very thankful for all of this.
Any shout outs of thanks you wanna end this with
Jess, Mom, Dad, Syd, Teen, Jimmy, John.G, Chris, Garth, Nic, Chance, John.S, Mike, Austin, Brian and all my homies you know who you are. Peace.